The weeks following Hurricane Harvey last year almost felt like a blur. From the perspective of a stone restoration estimator, it was heartbreaking to see one home after another scrambling to save anything worth saving. However, the one bright spot in this difficult time was the comradery that Houstonians had with one another.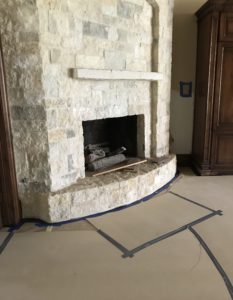 Of course, my main focus was the various stone floors in homes and buildings: terrazzo, marble, slate and granite floors more particularly. No matter what type of stone surface, my initial evaluation for the most part was that the floor still needed time to dry. Also, with major construction going on all around these floors, it was usually better to wait until the major construction had been completed before restoring the stone. Other contractors needed to come in first, most likely creating dust and traffic patterns. At first, my recommendation was to cover the stone floor with contractor paper (not plastic so the moisture could still evaporate) and complete major construction first.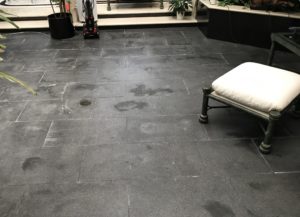 Here we are a year later, and it is time to have the stone floors done; so what am I seeing today now that the contractor paper is off and construction is mostly completed?
For stone floors that can be restored,
– The dark moisture discoloration has lightened
– Efflorescence has stopped forming. According to the Natural Stone Institute: "Efflorescence is caused by water carrying soluble salts from below the surface of the stone. The salts are deposited and recrystallize upon evaporation of the water, leaving a powdery salt residue."
– The stone surface still shows loss of shine / or has a patchy appearance
The water (and possible other contaminants) that has sat on the stone floor for a lengthy period of time has most likely etched the surface of the stone, which gives an overall patchy appearance. At this point, to reestablish a consistent appearance to the stone surface, International Stoneworks is restoring these floors by re-polishing or re-honing the surface using fine abrasives.
Not all stains and discolorations can be removed, but the light surface stains can be improved by a poultice system.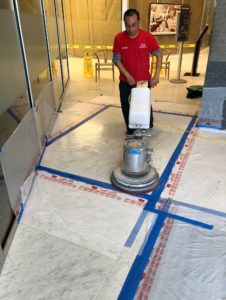 It's been a long road and we know for some of you, it's not over yet. However, we at International Stoneworks, are still here for you. If you need restoration, or just advice on your stone floors, give us ring or shoot us an e-mail.