Myth: "I prefer a honed finish because stone tops with a more matte finish do not acid etch."
Actually, the finish does not determine if the stone reacts to acids. It is the stone itself. If you have a honed marble countertop and you spill vinegar on the stone, the marble does etch, but it may not show as much because the finish around the etch mark is not a stark, high polished contrast. Honed finishes are a great option if you prefer a more matte-look. It also helps to camouflage acid etch marks if you are a messy cook (like me!) Ultimately, I recommend for you to just pick the finish that you like – honed, polished, brushed, etc.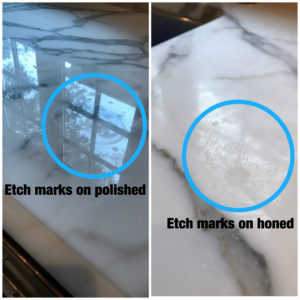 Note: International Stoneworks can restore honed and polished stones to remove etch marks.
Myth: "I don't want to refinish my stone because I don't want all that dust in my house/building."
Our restoration and maintenance of natural stone and tile is a wet process. Because it is a wet process, we do not create dust, but we do cover all baseboards and surrounding areas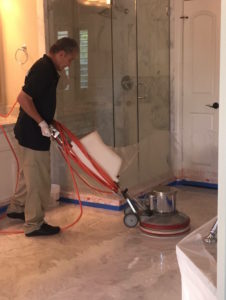 Myth: "I only need grout cleaning."
Many people call us and ask only for grout cleaning and we completely understand why: dirt gets trapped and accumulates in the grout lines over time and this accumulation makes the grout lines darker.
However, in order for us to thoroughly clean your grout, we need to clean your stone and tile as well. The best way for us to scrub clean your stone, tile, and grout is by using a soft brush called the Scrub Grit II Brush and an effective cleaner. The soft brush allows us to really clean the floor, even in small crevices (like grout lines or travertine voids). We typically use Lavenet neutral cleaner to clean stone floors and MDR (Mineral Deposit Remover) to clean tile floors.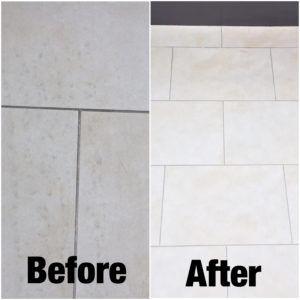 Myth: "This sealer will last me for at least 10 years – it has a warranty for that long."
What exactly does the warranty cover? Also, what happens if the warrantied sealer does not hold up well? Make sure to read the fine print. Many times, these warranties do not cover acid, ammonia, or alcohol spills on marble, limestone, terrazzo or travertine surfaces.
Even if your impregnator sealer has a warranty, we recommend re-sealing your stone surface annually to protect it from non-acid liquids such as oil, grease, coffee, tea, and water.