Being in the stone restoration industry, we are always looking for more efficient ways to refinish natural stone surfaces. When a floor needs more than just a good scrub clean, we have found a solution that is not only extremely effective in lightening up the surface, but also is environmentally friendly: Shot Blasting! There are few options out there, but personally we use the 1-8DM Shot Blaster, which is a walk behind machine.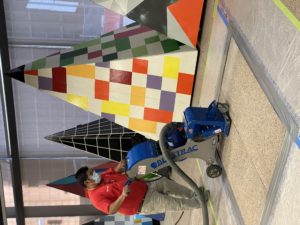 Ok, so what exactly is shot blasting? It is a restorative process that shoots or blasts small steel shot beads onto the floor. When the beads are blasted on the surface, the beads shoot at a high velocity, but in a controlled pattern and direction. The beads then rebound back along with the dislodged contaminants and dirt. The beads and contaminants are sucked back into a recovery chamber.
The size of the steel shot beads vary depending on the surface profile and desired finish.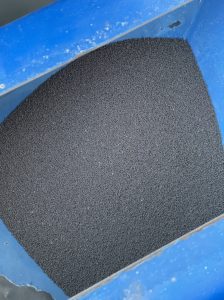 When is shot blasting an applicable form of restoration?
Shot blasting is commonly used on concrete floors as well as exterior floors including decks and balconies.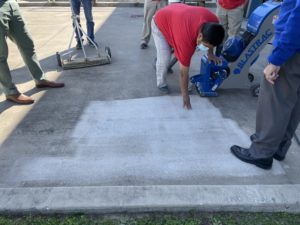 We recently used the shot blasting system for a customer that wanted to lighten a flamed granite floor and simple cleaning just wasn't cutting it. Shot blasting was able to achieve the desired look for this textured stone floor.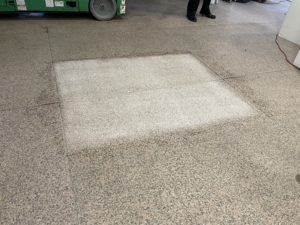 Shot blasting is also a great option if you need to remove an adhesive (such as old carpet glue).
A larger bead can be blasted on floors in preparation of wood installations, paints, coatings, or decorative uses. Also bonus: right after shot blasting, there is no wait time or drying time and the floor is immediately ready for the next operation (such as sealing).
So, why am I going on and on about shot blasting? Well, it has some additional benefits:
Environmentally friendly – the steel shot beads are recyclable and can be used multiple times
No rinsing
No drying time
Dust free when used with the appropriate dust collecting equipment
Minimal cleanup due to accompanying dust collection system
Efficient – cleans or strips surfaces in a short period of time
Hopefully, this blog has been a good introduction to a unique system. If you need more information on shot blasting, give International Stoneworks a call at 713-956-8291 or 800-775-TILE.