By Rawi Tabbah, International Stoneworks, Inc.
This year at The International Surface Event (TISE) 2018, we're getting technical when it comes to stone restoration and answering this question: when is it appropriate to restore stone surfaces with diamonds and when does one use other honing and polishing methods?
With this question in mind, let's explore one stone restoration case:
This particular project was a historical hotel in Houston. The hotel wanted to rebrand itself to create a new cutting edge image, while at the same time preserving some of the original material used when the hotel was constructed.
The white marble floor: that's where we came in. This marble floor was so worn that it wasn't even white anymore. It looked more like a brown color and absolutely no natural shine left whatsoever.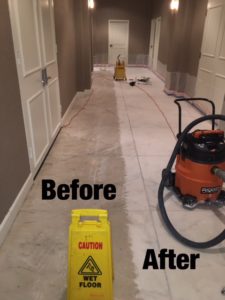 It was clear that the marble floor had been neglected for many years. The marble had been cleaned with an acid-based cleaning product, which was evident by the many etch marks on the floor. There were also planters placed on the floor and these planters had deeply scratched the marble. Not to mention that all of these imperfections were covered by many layers of wax coatings.
First things first, we asked the customer what his expectation was for the marble floor. He knew it may never look like the day it was installed, but nevertheless, wanted a high and natural gloss finish.
Knowing what the customer wanted as well as the condition of the floor, we knew that compounds, pastes, and pads were not enough to achieve this high polish look. Diamond grinding was the only way we could achieve this look.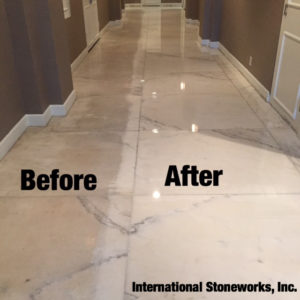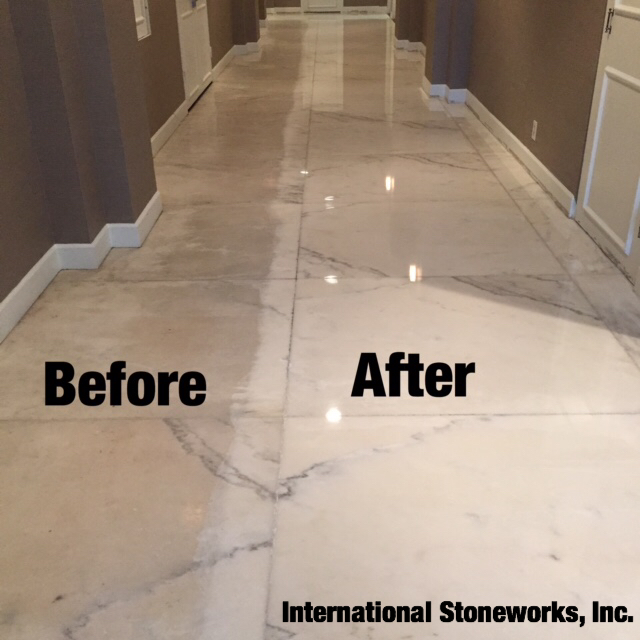 Diamond grinding is a restoration process using diamond abrasives that removes lippage (uneven tile edges), deep scratches and makes stone surfaces flat. The full grinding process provides the highest possible shine and clarity on stones.
But what about the customer's budget? Diamond grinding isn't exactly the most inexpensive process because of the amount of time it takes to grind down the stone and polish it back up again.  Thankfully, this particular customer had budgeted for extensive renovations at the hotel.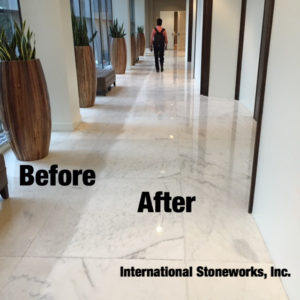 This project is just one case in stone polishing; a stone restorer has to take into account not only the condition of the stone, but also the customer's expectation and budget. Come see my class at TISE on Monday, January 29, 2018.  We'll discuss various stone restoration cases: when to polish with diamonds and when to use other polishing methods. See you in Vegas!