Picture in your mind the limestone that composes the Acropolis in Athens, then think about a shiny sleek Carrera marble kitchen countertop. Both are natural stones, yet both look very different. Stone can endure the passage of time and all sorts of weather conditions, but the finish on the stone, well that's a different story. The finish of the stone can be manipulated into what you like, whether you like a high polish or rough antique look.
I'm fairly certain that most people are familiar with a polished finish as well as a semi-polished finish. You mostly see these high and medium polished stone surfaces on stone tops and indoor stone floors.
The Marble Institute of America describes a polished finish as "a glossy surface finish that brings out the full color and character of the stone."
These are the finishes that you see on marble surfaces and you can pretty much read the light bulb that shines over the marble.
You may have also heard of a honed finish. According to the Marble Institute of America, a honed finish is "a satin-smooth surface finish with little or no gloss, recommended for commercial floors. Honed surfaces have become popular recently partially due to the fact that they area easier to maintain than polished stone surfaces."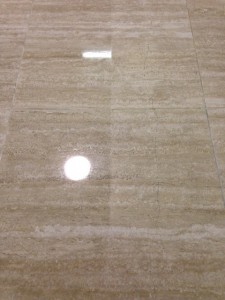 Ok, so we understand polished vs. honed, but have you ever heard of these textured stone finishes?
Flamed: The stone surface is textured to a rough finish using fire. You can usually see flamed (also called flamed-cut) floors (typically granite) at the exterior entrances of buildings.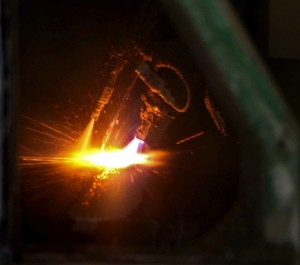 Brushed: The stone is textured to a rough finish using brushes and water.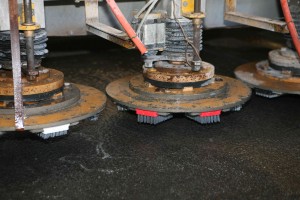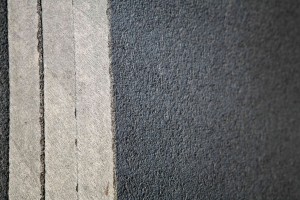 Sand Blasted:  The stone can be textured to a sand blasted, rough finish in two ways:

 
1. By sand blasting
2. By shot blasting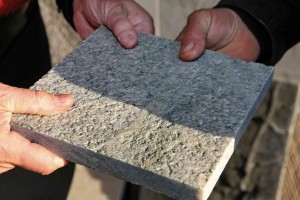 Softer stone such as marble, travertine and onyx can also be "antiqued," "tumbled" or "bush-hammered."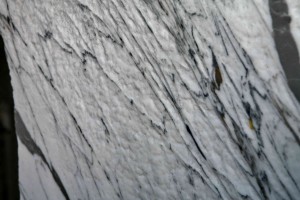 All of these finishes are created by craftsmen who understand stone in terms of porosity, abrasion characteristics, mineral composition, etc. These craftsmen achieve the intended finishes by using a variety of sophisticated equipment, which produce the exact finish requested by their customers.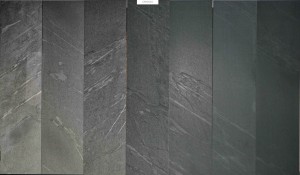 From a restoration standpoint, we can change a polished finish to a honed finish and vice-versa on-site in your building or home. However, flamed, brushed, sand blasted, antiqued, tumbled, and bush-hammered finishes are typically done at the fabrication process, in the factory, before installation.
Whether you need advice on which finish is best for you, or if you are interested in honing or polishing your stone surface, International Stoneworks, Inc. is happy to help.