We love our natural stone surfaces and who doesn't love a beautiful marble kitchen island or limestone lobby floor? But reality check: we USE our stone surfaces: we walk on, cook, shower on our beautiful stone floors, walls and tops.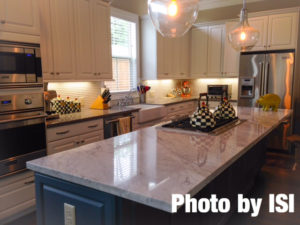 We adore our stone, but no one likes the embedded dirt or loss of shine than can inevitably follow installation.
But never fear, stone maintenance is here! An educated customer, is the best kind of customer, so this week's blog is about which stone surfaces need regular stone care and why.
Interior stone floors
In heavy traffic areas, foot traffic patterns can develop. In time you can see distinctive areas where you have loss of shine due to wear and tear. Residentially, these areas are most likely your kitchen and bathroom. Commercially, you may see loss of shine in elevators, in front of the security desk and in restrooms.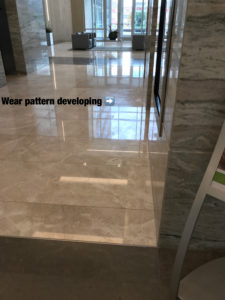 For porous stones such as travertine and limestone, you may also see embedded dirt in your heavy foot traffic areas.
Regular stone maintenance from a professional stone care company can address these areas quarterly or annually, so stone floors never look worn or dirty.
Countertops and bathroom vanities
Marble, limestone, travertine and onyx tops are prone to acid etch marks from certain food, drink, and care products.
I also see white calcium build-up around faucet and fixtures due to sitting water.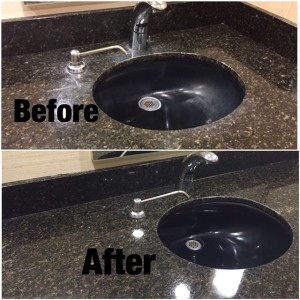 Clean with neutral cleaners such as Lavenet or Crystal Clean and call International Stoneworks to remove acid etch marks; we will re-hone and re-polish stone tops.
Exterior stone floors and walls
Flamed granite sidewalks around buildings inevitably collect embedded dirt and they need a regular scrub cleaning. Pool decks and patios need stone care too to remove dirt, mildew, etc. from weather/rain exposure. International Stoneworks typically addresses these areas with a Scrub Grit II Brush and floor machine along with the appropriate cleaner.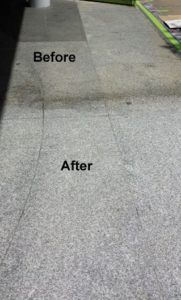 Fountains
Constant water exposure unavoidably creates white calcium deposits and these deposits need to be addressed regularly, so they don't heavily calcify.
Water over time can also wear away a polished finish and dull stone color. International Stoneworks can remove calcium deposits, re-polish and enhance natural stone.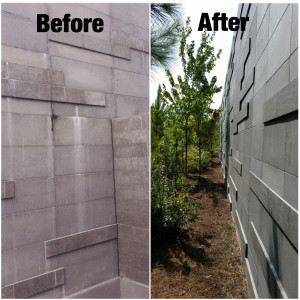 Don't be afraid to use natural stone in your home or building. Just keep in mind, like many other luxury materials, that these surfaces need a little TLC (stone maintenance) every so often.