Our business is restoring natural stone, but as a homeowner or a property manager, you can prolong the need for stone restoration by simply using the right products to maintain stone tops, showers, and floors.
Lavenet and Lavenet Green are neutral cleaners for polished, tumbled, honed or flamed: marble, travertine, limestone, slate, granite and other natural stones. They require no rinsing when used properly. Lavenet and Lavenet Green are completely biodegradable and are safe to use on all stone and tile surfaces. They are available in both concentrated and ready-to-use.
For those of you who are environmentally conscious, Lavenet Green has a completely neutral pH and contains no solvents.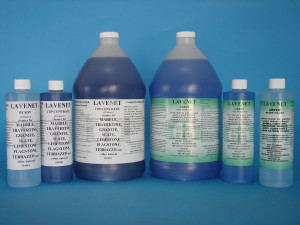 Akemi Crystal Clean is a completely balanced natural stone and ceramic tile cleaner that removes light soap scum and dirt from showers, walls, vanities, tub surrounds and kitchen tops. Crystal Clean will not etch marble, limestone, travertine or granite. It will also safely clean Plexiglas and glass doors and stainless steel fixtures. Crystal Clean is streak-free and requires no rinsing or buffing.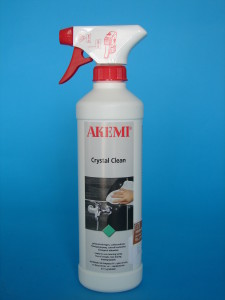 NABC is a sterile non-acid bowl cleaner that not only cleans and disinfects toilet and sink bowls, but also serves as a powerful restroom deodorant. It is a safe, effective alternative to harsh acid products. This hospital-grade disinfectant bowl and bath cleaner will not "etch" stone should it come in contact with the stone floor or vanity.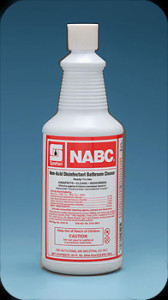 Stone Essentials™ Countertop Polish
Stone Essentials™ Countertop Polish is an easy-to-use aerosol foam polish that provides a beautiful shine on all stone countertops and vertical surfaces. Countertop Polish increases water repellency, minimizes water spotting, and eliminates heavy residues and fingerprints. It is a weekly or monthly polisher for non-floor stone surfaces such as polished marble, granite, limestone and travertine. Use on vanities, tops, shower walls, etc. 
Please note that Countertop Polish will not remove etch marks.
Do not use on floors.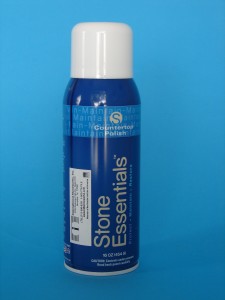 The products and supplies in this kit are designed to eliminate etch marks from most marble, limestone, travertine and terrazzo. Etch marks are acid burns created by acids such as lemon, vinegar, citric juices, acid base cleaners, etc. Etch marks remove the shine from polished stone surface. The Etch Kit allows you to re-polish smaller etch marks such as glass rings or small spots.
Please note that the contents of this kit are designed to work on small areas.
Some etch marks may be too old or too deep to be removed using the Etch Removing Kit. Should these etches not come out, International Stoneworks can remove them with our professional polishing system.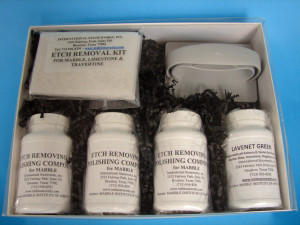 These products can be found at our location, as well as various Houston retail locations: Bering's Hardware, Buffalo Hardware, and Ace Hardware (at Memorial and Dairy Ashford).