Now that you have picked your natural stone, the question is, what type of finish do you like? Do you want a lot of shine or do you prefer more of a matte finish? Or maybe even a textured/rough finish.
So which one is it? Honed, Polished or Textured? Let's break it down:
Polished finish:
The Marble Institute of America Glossary states that a polished finish is a glossy surface finish that brings out the full color and character of the stone.
Naturally polished finishes are not sealer or wax coatings. The shine comes naturally from the stone itself. If you want a glossy or opulent look, a polished finish is the way to go.
Honed finish:
The Marble Institute of America Glossary states that this finish is a satin-smooth surface finish with little or no gloss. Honed surfaces have become popular recently partially due to the fact that they can be easier to maintain than polished stone surfaces.
How is it easier to maintain you ask? Etch marks (chemical surface burns) seem to show less on honed surfaces because they do not starkly contrast the rest of the high polish surface.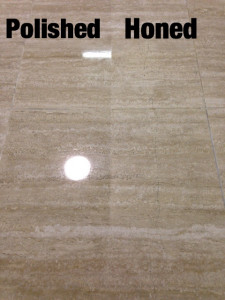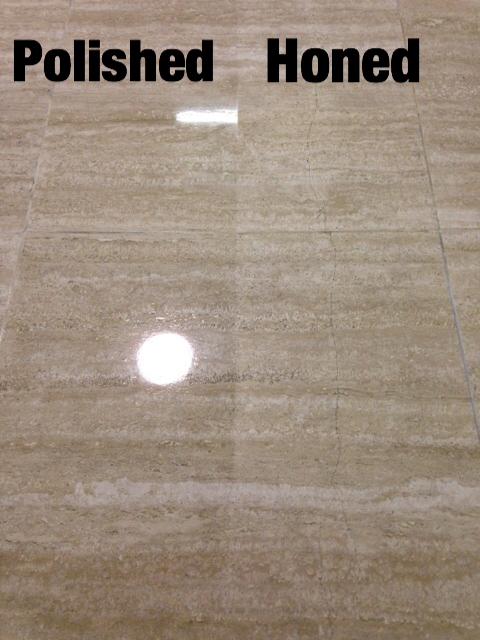 Please note that even if your marble, limestone, or travertine was installed with a certain finish, we as a restoration company can hone or polish the stone on-site.
Whether you have a polished or a honed finish, stick to neutral cleaners such a Lavenet and Akemi Crystal Clean. Seal annually with Seal & Go® S or Seal & Go® W. International Stoneworks can also re-polish and re-hone natural stone if you start to see wear and tear, etch marks, or fine scratches.
Textured:
Stones such as slate, flagstone, flamed granite, and unfilled travertine have a rough finish. These finishes are great for a rustic look as well as for outside floors for slip resistance.
We recommend Lavenet neutral stone cleaner or if the surface requires a heavy duty cleaner, you can use the Green Solutions Floor Finish Remover.
It is important to seal textured stones annually as it can absorb liquids, especially for outside stone surfaces as they are exposed to the elements. If your need is water repellency, look no further than penetrating sealer, Seal & Go® S.
Over time, dirt can become trapped in textured tiles and grout lines and it can be quite difficult to remove this embedded dirt. Simple damp mopping cleans the surface of the stone, but mopping does not remove the trapped dirt. International Stoneworks, Inc. can professionally scrub clean your textured stone with our rotary scrub brushes and floor machines.