Myth: Sealing stops dirt from accumulating on the surface of my stone.
If you have a textured stone floor such as a cross-cut travertine or a honed limestone, dirt can accumulate into the tiny pinholes and crevices. Sealing your stone won't stop that.
When applied, impregnator sealers absorb into the stone and stop liquids like water, coffee, tea, grease, and oil from penetrating into the stone and staining it. Impregnator sealers are not a coating that stay on the surface of the stone and cover the small pinholes. We can, however, remove this embedded dirt by  scrubbing it clean with our Scrub Grit II Brush.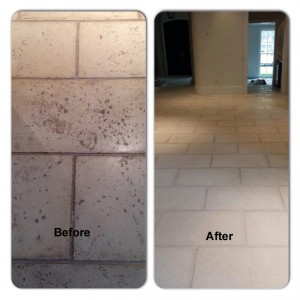 "Why should I restore my stone when I can just seal it?"
It is a common misconception that sealers add shine to stone and will make your stone look like new. If you want your stone to look like new, you will need to call a professional restoration company like International Stoneworks to re-polish or re-hone your stone with fine abrasives and compounds. Any shine you see will come from the stone itself, not a sealer or coating. We use impregnator sealers that do not add shine; they just protect.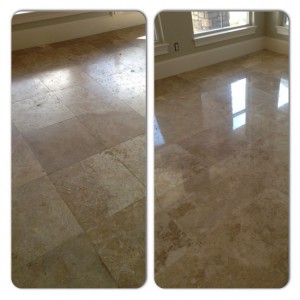 Now, if you want a quick fix and you are a do-it-yourselfer. You can buy a topical sealer or wax and apply it to the surface of the stone. This coating will cosmetically hide small imperfections such as etch marks and fine scratches.  Please note that a wax finish is not the same as a no-wax professional polishing system.
Myth: Sealing will change the color of my stone.
Typically, impregnator sealers neither change the color of natural stone nor add shine. If you are sealing a polished limestone, travertine, marble, or granite, the impregnator will not change the color and will not add shine. However, if you are sealing a darker stone with a honed finish, the impregnator may slightly darken the color. For example, a completely honed black granite has a gray color to it naturally. When sealed, the honed granite can turn a darker gray. Honed, dark materials are very absorbent, so it is important to protect these stones with an impregnator sealer, even if the color slightly darkens.