Many times, countertops and showers in homes, and commercial building walls and signs get even more abuse than floors. Think about your home for example; you take a shower at least once a day and your kitchen countertops are constantly being used, touched, and cooked on.
Now think of the exterior columns, signs, and walls of an office building. They are constantly exposed to all sorts of weather conditions. Over time the elements naturally hone stone surfaces and the stone may even lighten in color.
The way that we polish and hone a stone floor is very different from the way we restore stone countertops, walls, signs and ceilings.
When we restore stone floors, we use large, heavy floor machines; however, when polishing a non-floor surface, it requires all hand-work. We use small hand polishing machines in order to abrade the stone surface. Sometime we even have to clean, polish and seal by hand areas which are too small to be restored with a hand machine (such as the small space between the faucets). This work takes more care, elbow grease, and time.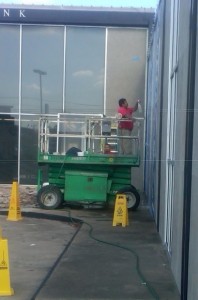 Our non-floor restoration can be anything from scrubbing out embedded dirt to poulticing grease stains to diamond grinding/ polishing the stone's surface. With our hand machines, we can use our ISI Diamond Impregnated Pads or even diamond grinding discs to remove wear, etch marks, and scratches in order to re-polish the stone surface.
We also recommend sealing these stone surfaces as well with Seal & Go® S or Seal & Go® W. In your home, it is important to seal areas such as your shower and around sink areas at least once a year in order to protect your stone and to create water repellency. Please keep in mind that no sealer will protect your stone against acid, ammonia and alcohol. Sealing is important for commercial buildings as well. Reception desk tops are constantly being touched and sealing these stone tops with a penetrating sealer helps repel grease and oil stains. Sealing exterior stone surfaces also helps the stone surface to resist rainwater penetration.
Our stone restoration is certainly not limited to floors; if you need to restore your marble, travertine, granite, limestone, or onyx countertops, walls, columns, or even statues and fountains, give International Stoneworks, Inc. a call.