It was the week that hell froze over. Texans are the toughest people I know, but wow we suffered that week with epic low temperatures and no heat to warm us up. I wanted to write a blog about moving forward and how we can repair stone surfaces that may have been damaged due to the storm.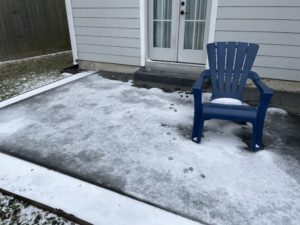 Water damaged from broken pipes
First off, if you haven't already, damp mop the floor with a neutral cleaner such as Lavenet or Lavenet Green and let the surface dry. Use fans and dehumidifiers if necessary. Surface moisture sometimes evaporates in time and the stone does not need restoration or replacement. If there is some discoloration and it does not disappear, an on-site evaluation by International Stoneworks may be needed.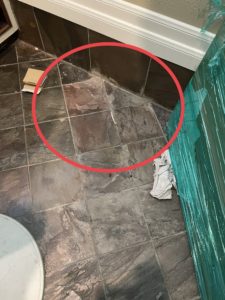 Water damage to stone floors can include:
Dark moisture discoloration (may lighten up on its own in time)
Efflorescence formation – "Efflorescence is caused by water carrying soluble salts from below the surface of the stone. The salts are deposited and recrystallize upon evaporation of the water, leaving a powdery salt residue." Clean with Lavenet and monitor the floor to see if it returns. If efflorescence is not coming off easily, contact International Stoneworks.
Surface stains that are not due to moisture – Not all stains and discolorations can be removed, but the light surface stains can be improved by a poultice
The stone surface shows loss of shine / or has a patchy appearance – water that has sat on the stone floor (such as marble, travertine or limestone) for a period of time has most likely etched the surface of the stone, which gives an overall patchy appearance. At this point, to reestablish a consistent appearance to the stone surface, International Stoneworks can restore these floors by re-polishing or re-honing the surface using fine abrasives.
Ice expanding cracks and fissures
You may see on some exterior stone surfaces that cracks or voids have become significantly larger post storm. Water may have frozen in the fissures of the stone floor. As it thaws out, it expands the cracks and fissures. For these cases, monitor the voids to make sure they do not continue to worsen. If needed, International Stoneworks can fill these voids.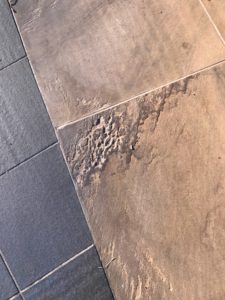 Salt
For exterior stone floors that had to be salted to avoid slipping on the ice, the salt may have scratched the surface of the stone. Salt is course, so in order to remove these scratches, a professional restoration by International Stoneworks will be needed to re-hone the stone surface.