The stones and tiles of New Orleans are a lot like the city itself; they have character. They tell a unique story: from the mosaic tile storefronts on Royal Street to the glossy Jura Stone lobby floor at the newly-renovated Roosevelt Hotel. There is undeniable history that one understands when you think of New Orleans, and it is a story that can be told if we only pay attention to the streets and floors that we walk on as we stroll through this amazing, one of a kind city.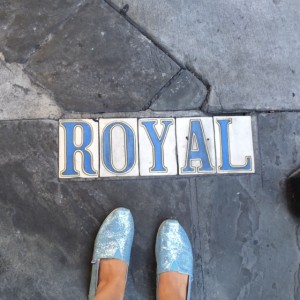 Historic Street Tiles
As you walk through the French Quarter, you may notice that the street names are on white tiles with blue letters. These street tiles date back to around the 1870's and are truly a landmark. The tiles are four by six inches and are three-quarters inch thick. They are so iconic that many locals use replicas as magnets, coasters, decorations, etc. The people of New Orleans do their best to preserve the street tiles, even when more modern structures are built around them.
Mosaic Ceramic Tiles
Ceramic tile floors play a big role in New Orleans architecture and design. You can walk into legendary locations such as Antoine's Restaurant and see the small mosaic tile floors with simple patterns that give such character. You can even see these decorative and classic floors just by walking down the street, observing antique store entrances.
Locals are so passionate about keeping their history alive. Even if a new business moves into a location, it will maintain the previous owners name if it is featured in the design of the mosaic tile floor entry.
Modern Marble Structures
As you stroll through the Quarter, you may come across a stark white building. This marble and terra-cotta Beaux Arts structure is the State Supreme Court on Royal Street.
The Supreme Court moved to this location in 1958, but the building was neglected and fell into disrepair. In the 1990's, the Supreme Court was extensively renovated and is now a beautiful example of a more modern building in the Crescent City.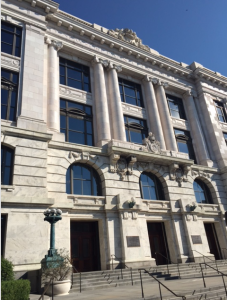 Terrazzo Store Fronts
Similar to the mosaic ceramic tiles, you will see terrazzo floor entries and floors in some of New Orleans' bars and stores. In the early 20th century, store owners started using terrazzo instead of ceramic tile on their storefront entrances and alcoves.  Design and color was decided and configured by the installer and often included decorative borders and patterns. You can also find terrazzo store signs around the Quarter as well.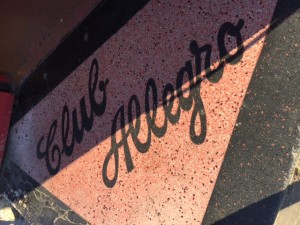 New Orleans is an exceptional city with its own personality. A large part of what I think gives the city so much character is its architecture and of course I gravitate to the stone and tile surfaces. I think anyone who has ever lived in New Orleans always takes a little piece of that city with them no matter where they go. New Orleans is just one of those places that once you call it home, you simply fall in love with NOLA and its charm.