Care and maintenance methods for ceramic and porcelain tile do not always apply to other surfaces such as natural stone. Certain cleaners are super for tile, but can cause surface damage to natural stones such as marble and travertine.
We're going to clear up some common misconceptions, so you can confidently clean and take care of your stone and tile floors!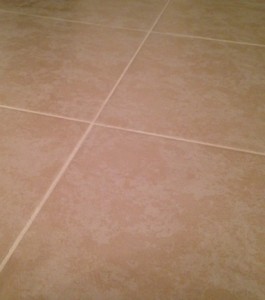 For ceramic, porcelain and quarry tiles:
The question I receive the most for tile floors is: How do I clean the grout? Over time dirt can get trapped within the grout lines and it can be quite difficult to remove this embedded dirt.
For the daily cleaning and damp mopping of tile floors, I recommend Lavenet neutral cleaner.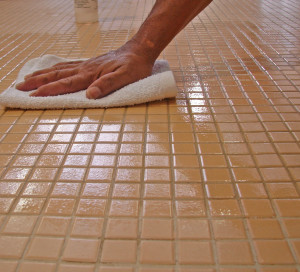 For more extensive tile and grout cleaning:
If your grout is a lighter color, try cleaning your ceramic, porcelain and quarry tiles with a solution of MDR (Mineral Deposit Remover). This effective product is a great cleaner and lightens grout lines. Caution: MDR contains an acid and will etch marble, travertine, limestone, terrazzo and flagstone.
If your grout is colored (like black, gray or pink), try cleaning your tile floors with TGR (Tile & Grout Restorer). Caution: TGR contains an acid and will etch marble, travertine, limestone, terrazzo and flagstone.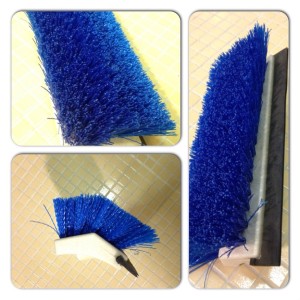 If simple cleaning with a cloth or mop is not enough, you could also try to scrub the tile and grout floors. I recommend a scrub brush with a handle such as the Dual Action Scrub Brush. It allows you to clean your tile as well as the grout lines (which tend to be slightly lower than the tile itself). The textured brush helps dislodge most of the embedded dirt.
If you call International Stoneworks to professionally clean your tile floor, we will scrub clean the floor with our Scrub Grit II Brush. This brush is used for the medium to mildly aggressive cleaning of ceramic, porcelain, and quarry tile. It is also great for grout lines less than 1/2″ in width. Rotary brushes are a great solution to grout cleaning. Also, to increase the efficiency of the brushes, we wet vacuum immediately following the scrubbing.
For natural stone surfaces:
Many natural stones such as marble, travertine, limestone, terrazzo, calcites and even some "granites" react (acid etch) to liquids that contain acid, ammonia, or alcohol. Even if your stone is sealed, the sealer does not stop acid etching.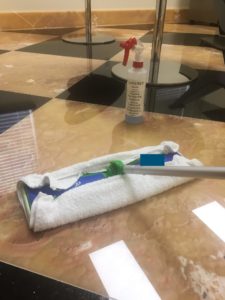 For the regular daily cleaning of natural stone, I recommend Lavenet neutral stone cleaner. Lavenet is a great cleaner and degreaser.
If you are environmentally conscious, you can use Lavenet Green, which has a pH of 7 exactly and is biodegradable.
If you need to sanitize your natural stone surfaces, I recommend cleaning with Sani-Tyze.  This cleaner allows you to disinfect your stone, but does not etch the surface.
Lastly, if you want a more heavy duty cleaner for your stone floor or you wish to lightly strip off a wax coating or acrylic sealer, I recommend Green Solutions Floor Finish Remover. This product is specifically formulated to strip non-urethane floor finishes and is the strongest cleaning product that I recommend for natural stone.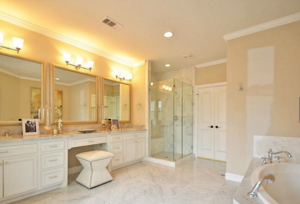 Keep in mind that stone cleaning and daily stone care products will not remove acid etch marks, deep stains, dullness, or fine scratches. International Stoneworks can professionally remove these surface imperfections with various stone restoration techniques.
Maintaining your tile and stone surfaces shouldn't be an intimidating process. When you know the right cleaners to use, you can confidently take care of your beautiful surfaces and floors.