What a week in Orlando! Everything from the exhibit hall to the educational classes – we had a rockin' good time! Here are some of my highlights:
My first morning at Coverings 2017, I was up bright and early to introduce Mr. Vincent Marazita and his course, "Stone Trends: A Historical Prospective." You might think an 8:00 a.m. class would be difficult to attend, but not when it's Vincent. He was such a dynamic speaker and brought life to the history of stones from around the world! It was worth being an early riser for this class and I look forward to hearing Vincent speak again.
Next, the Coverings Exhibit Hall; I loved that the hall was separated into different countries. I started wandering through Brazil, roamed through China and then stumbled right into Italy.
I found myself gravitating to the hypnotic Antolini booth, which looked more like a gorgeous boutique. Honestly, they had me at Espresso. Not only did the Antolini booth feature gorgeous slabs of "Precioustone" that lit up as you sauntered through the exhibit, but they also had a full coffee bar!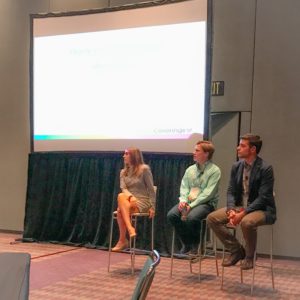 Next the pressure was on for me at the Managing a Family Business Panel moderated by the famous Tony Malisani. Our panel featured John Kilfoyle of United Marble, Joey Ganassa of Washington Marble and yours truly! As we walked into the room for the presentation, my heart stopped: the room was packed! The butterflies in my stomach started flapping their little wings, but luckily not for long. The audience was truly an amazing group and with their participation, the panel discussion became so interactive and we all had a great conversation. I couldn't have asked for a better group in that room at the Orange County Convention Center.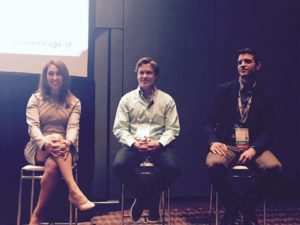 Fortunately, I was able to relax after our presentation with a glass of wine at the MIA+BSI Happy Hour.
A couple of other courses that I enjoyed:
Care & Maintenance Interactive Experience: Cause, Cure and Prevention presented by Rod Sigman. As a restoration specialist, it was a fun test for me to see if I knew the cause and solution to the various stone restoration challenges that were presented.
The Women in Stone Mentorship Program, "Define Your Personal Brand" with guest speaker Lucy Sorrentini. Well, I always have a great time with my Women In Stone friends, but truly I enjoyed the discussion and exercises that we did together to develop our branding skills. I also made new connections with Women In Stone members from around the world.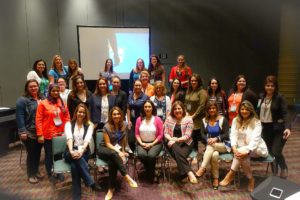 All in all, Coverings 2017 proved to be educational, insightful and just plain fun. Hopefully, I get to be a part of this exciting convention next year in Atlanta.