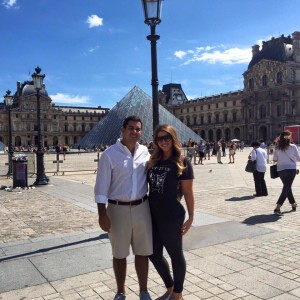 The Louvre
This amazing baroque-style structure has served many purposes: a fortress, a palace and now one of the word's most famous museums. This historical building is made of Lutetian limestone from the hillsides, approximately 25 miles north of Paris. This stone is also known as Oise stone or Saint-Maximin limestone. You can find this limestone on the exterior of buildings throughout Paris: La Place de la Concorde, Les Invalides and other Paris buildings built around the 17th century onwards.
In stark contrast, you see the modern glass pyramid, which stands before the Louvre Museum entrance. It is beautiful and almost jarring to see this historical palace behind such a modern piece of art. The pyramid was designed by Chinese-American architect, Ieoh Ming Pei and opened in 1989. As you can imagine, not everyone loves this modern twist on a historical site. However, I really like it. I think the Louvre has stood the test of time by evolving and this is just another step in its evolution.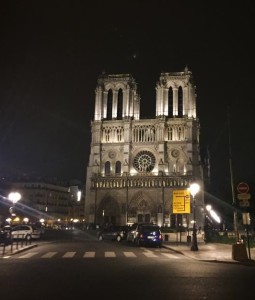 Notre Dame Cathedral
Once again we see the famous Lutetian limestone (Oise stone) on the exterior of the Notre Dame (just like the Louvre). The French love this stone as some claim it is resistant to weather and time. I am going to agree with them on that fact as both buildings look simply stunning, but not without a little help.
The Notre Dame has seen several restorations, the first in 1845. This restoration, which lasted 25 years, was more structural and was overseen by two architects: Jean Baptiste Antoine Lassus and Eugène Viollet-le-Duc. They reconstructed some of the structural elements of the Cathedral such as the spire and chimeras.
The second restoration took place after World War II. Notre Dame sustained damages after the war. Bullet holes had to be patched and stain glass windows had to be replaced. The new stained glass was designed in more of a geometric pattern compared to the original windows, which had more Biblical scenes. If you have ever been to Notre Dame one of the most stunning elements of this Cathedral is its stained glass windows.
The latest restoration of the Notre Dame took place in 1991. The Cathedral was due for a good maintenance. The stone and sculptures were cleaned and restored back to their original beauty. The lighting was also updated to LED.
What I love about the Notre Dame and the Louvre is not only their splendor, but also how they are a perfect representation of their country. The French Lutetian / Oise limestone that adorns these buildings shows the resilience and beauty of this magnificent city.