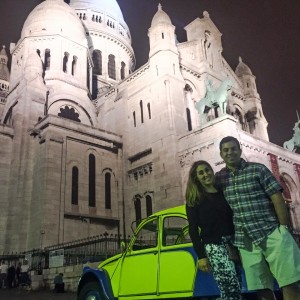 Sacré Coeur
At the peak of Paris' landscape, towering over Montmartre, you will see the stark white Sacré Coeur Basilica – like a radiant beacon. The stunning Sacré Coeur Church was commissioned by the French National Assembly in 1873. It was designed by Paul Abadie and was meant to be a symbol of hope and power for the city following the Franco-Prussian War.
The white stone that makes this Church so unique is called Château-Landon, which comes from the Souppes-sur-Loing quarry, in the Seine-et-Marne department at the southern edge of the Île-de-France region. Interestingly, Château-Landon is a travertine, not a marble. (I always assumed the Sacré Coeur was made of a white marble).
Château-Landon, as it turns out, is a fascinating stone in that it is self-cleaning! This extremely hard, fine-grained stone releases calcite when it rains. In other words, a chalky white substance recoats the stone every time it rains. How amazing is that?!
It is also important to state that the Sacré Coeur is worth a visit at nighttime too, not only to see the gorgeous white stone Cathedral, but also the Paris skyline. As you look upon the city, you can see all the sites: the Arc de Triumphe, the Eiffel Tower and all the glimmering stars over the City of Love.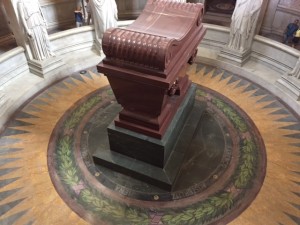 L'Hôtel National des Invalides
 Also known as Napoleon Bonaparte's final resting place. In 1840, in a ceremony known as "Le Retour des Cendres," Napoleon's remains were given back to France; he is now entombed under the dome of Les Invalides.
You didn't think that the French would give the great Napoleon a shoddy small marker did you? No way! His tomb is absolutely enormous, surrounded by colorful mosaics and stone angels that look upon him. The actual tomb is made of red quartzite that rests on a green granite base.
Let's not forget that Les Invalides also commemorates other important military figures from French history. The other tomb that I thought was truly beautiful was the tomb for Napoleon II (son of Napoleon Bonaparte). It is made of beautiful black and white marble. Interestingly, I learned that his remains are in the tomb, but not his heart, which remains in Vienna.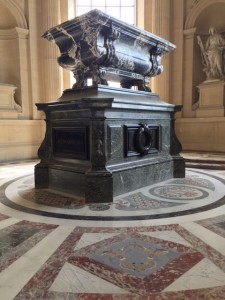 Stay tuned next week to learn some amazing facts about the Louvre and the Notre Dame Cathedral.