We've noticed recently that architects, designers and homeowners don't just want one type of stone. They want to mix and match. Have you ever been to the Aria hotel in Las Vegas? The lobby floor has all types of granites with honed, polished and even flamed (textured) finishes.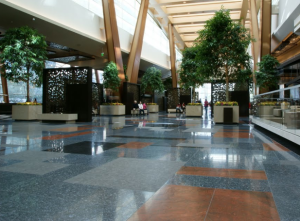 I also went to a home last week where they had just completely remodeled the master bathroom with a combination of Carrara Marble and slate. As stone restoration specialists, we admire these various stones and finishes, but it is important to know how to maintain them.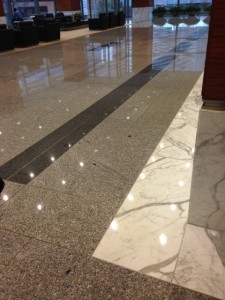 For Commercial Buildings:
Whether you have a combination of granite and marble on the lobby floor or a travertine reception desk on a limestone floor, it is important to know the proper care methods for all your natural stones.
For the general maintenance of marble, travertine, limestone, granite, and slate, stick to neutral pH cleaners such as Lavenet and Lavenet Green. If you have a combination of stones, Lavenet and Lavenet Green are safe and efficient cleaners for all stone surfaces: from lobby floors to kitchen countertops.
We also usually recommend sealing all stones and grout lines after installation and annually after that. This goes for all natural stones. Keep in mind that when it comes to marble, travertine, limestone and certain granites, the sealer has its limitations. Sealers do not stop acids (hence the importance of using neutral cleaners).
For buildings that have combinations like black granite with white marble or black marble with travertine, we recommend leaving the restoration and maintenance of the traffic areas to professionals like International Stoneworks.
Each stone reacts differently to products and certain stones are softer than others. It takes a professional to know if diamonds or powder compounds (or a combination of both) are needed to achieve a consistent shine.
We have also seen lobby floors with polished granite with strips of flamed granite. The flamed granite strip must be protected thoroughly when we polish the polished granite floor. As you can tell, it is a time consuming process and you need to have a good background knowledge of the various types of natural stone.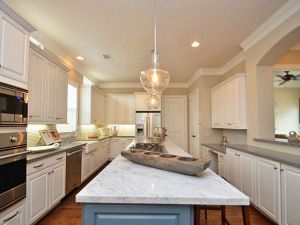 For Homes:
For the home, the difference in stone usually is between the floor and the countertops. Again, stick to the neutral cleaners such as Lavenet. We recommend sealing your stone surfaces with penetrating sealers such as Seal & Go® S annually (especially in the kitchen and bathrooms). For small etch marks (chemical burns due to acid), you can use the Etch Removing Kit, but for larger projects, we recommend leaving those to the professionals such as International Stoneworks.
There are so many gorgeous stones out there and you don't have to stick to one. With a little bit of homework, the right stone care products and maintenance program, you will be able to truly enjoy your unique natural stone surfaces.