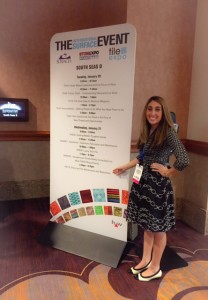 It is a man's world in the stone industry, but I've learned recently through the Marble Institute of America Women In Stone that there are powerful and intelligent women in this business. I feel truly honored that I am a part of this group of women that really kick some butt in the stone world! Some people may think that it is a disadvantage to be in the minority in this business, but I feel the opposite. I think that being a lady in the stone restoration business has truly become my advantage.
When I am working with our customers, I not only use my head, but I also use my heart as well. That may sound cheesy, but I really want to put myself in customers' shoes. I try to figure out what it is they actually want (even if they are saying something a little different or maybe can't quite express exactly what type of finish they would like on their natural stone surface). I look at my surroundings, which help me understand the customer's style and design choices. It certainly doesn't hurt that many of the property managers and homeowners we work with are women. I think for the most part, women want to see other women succeed and let's be honest: at 5 feet tall I am not very intimidating. I am approachable, friendly and I genuinely want to help our clients.
The bottom line is, I really like my job and I try to be as knowledgeable as I can about natural stone, our products and our stone restoration services. Although I may be the "weaker sex" and vertically challenged, I have an opinion and I am not afraid to express my ideas. It is so important in our industry to share our thoughts and opinions. Our point of view as women helps us stand out. We have a unique perspective and what we have to say is important.
First posted on Stone Dimensions.