You take a shower at least once a day. You use all kinds of soaps, shampoos, and conditioners. Needless to say, your stone shower takes a bit of a beating.
Overtime, you will notice the shine has diminished, you may also see soap scum lines, maybe even a little calcium buildup. All these problems can be fixed, but more importantly these problems can also be avoided (well at least for a couple of years).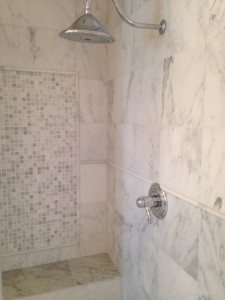 Here are some tips to help you put off stone restoration and will help you keep your shower looking beautiful for longer:
1. Buy and use a squeegee
I know it is a pain to squeegee your stone walls and glass doors every time you shower, but it helps prevent soap scum lines.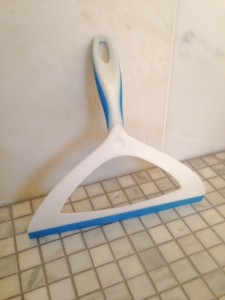 2. Leave the shower door open after you take shower
Now, this one isn't so hard to do. When you leave the door open you allow the steam out of your shower. This piece of advice is critical for steam showers. When I go to people's homes, I tend to see some mold and mildew build up in steam showers. If you see a little mildew, clean with Algae and Mildew Remover as needed.
3. Clean regularly with Crystal Clean or Lavenet
I usually recommend Crystal Clean or Lavenet to clean stone showers. Since acids like vinegar etch stones such as travertine, limestone and marble, I always recommend neutral cleaners.
Crystal Clean is not only a neutral cleaner that will not harm stone, but it will also remove light calcium deposits and soap scum. However, it will not remove etch marks (chemical burns), stains, or extremely heavy calcium deposits. This is a regular maintenance cleaner that prevents calcium build up.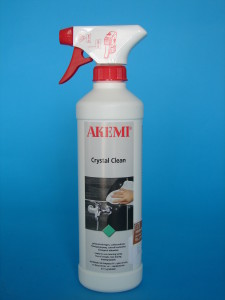 4. Seal annually with Seal & Go® S or Seal & Go® W
To help prevent water from penetrating into the stone, I recommend sealing with impregnator sealers, Seal & Go® S or Seal & Go® W on an annual basis. Sealing helps protect your stone against the exposure to water and oil-based products. Seal & Go® S and Seal & Go® W are not topical coatings and will not add color or shine. It soaks into the pores of the stone and repels non-acid liquids and makes the stone easier to clean.
These tips will allow you to put off a complete stone restoration of your shower, but remember if you do use your shower daily, you will most likely need to restore the stone after a few years. When that time comes, you know who to call. International Stoneworks, Inc. would be happy to hone, polish, and seal your stone surfaces.