Many customers call asking how to remove stains from their stone surface. Seems like an easy enough question right? Well not really. The term "stain" is used very often, but the problem the customer is facing may not be an actual "stain."
Let's define what a stain is. A stain is a discoloration of the stone; however, the surface finish of the stone remains smooth.
The most common types of stains are:
Oil-based (oils and grease)
Organic (such as coffee or fruit)
Metal (such as rust)
Biological (algae, mildew or mold)
Ink
Paint
Not to be confused with an etch mark. An etch mark is a chemical burn that forms when acid, ammonia, or alcohol comes into contact with the calcium carbonate element that exists in certain natural stones. These marks look like the finish or the shine has been removed from the surface of the stone. The area that is etched typically feels a little rough to the touch. Etch marks are most common on marble, travertine, limestone, and terrazzo surfaces.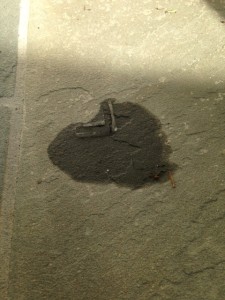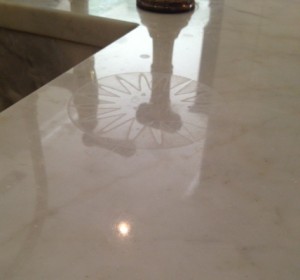 So now the most important question, how do you remove stains and etch marks?
Treating Stains
Knowing the type of stain will help identify which stain removal technique is needed. However please keep in mind that when stains are very deep, they may not be able to be removed.
To help prevent oil and organic stains, we recommend sealing your stone with Seal & Go® S or Seal & Go® W. These sealers are penetrating sealers, meaning they go into the pores of the stone and repel non-acid liquids like water, coffee, tea, grease, oil, etc. We recommend re-sealing your stone annually especially in kitchens and bathrooms. You may need to apply more than one application of the sealer.
If you want to learn more about how to apply Seal & Go® S or Seal & Go® W, check out our blog post, "Smooth Sealing."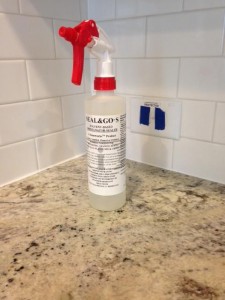 If you have a surface stain on your stone, you can apply a poultice on the stain. Per the Marble Institute of America, a poultice is "a liquid cleaner or chemical mixed with white absorbent material to form a thick, stain removing paste." Some poultice options you have are Akemi Oil & Grease Remover Paste, Bellinzoni Mangia Macchia, or SAC (Stain Absorbing Compound).
Treating Etch Marks
Unfortunately, simple cleaning won't remove etch marks. Etch marks need to be re-polished if you have a polished stone surface or re-honed if you have a flat/honed finish on your stone. For a small ring mark or a couple of spots, you can try to re-polish your stone by yourself using our Etch Removing Kit.
For large areas or floors, you will need professional stone restoration services, so give us a call: 713-956-8291 or e-mail us: sales@intlstoneworks.com.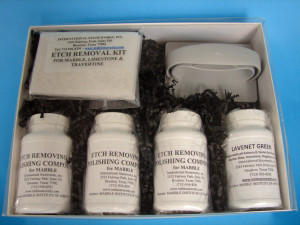 Please note that sealers won't stop acids, ammonia, or alcohol from etching natural stones such as marble. Try using cutting boards in the kitchen. Replace as many acid-based products as you can (try Non-Acid Bowl Cleaner instead of the typical bowl cleaner); and most importantly, use the right stone cleaners. For the regular cleaning of your stone, avoid acids like vinegar. Use neutral cleaners such as our Lavenet or Akemi Crystal Clean.
Using neutral cleaners on or around your stone is a simple way for you to take care of your stone without putting your stone in harms way.