1. I'm done cooking. I'll wait and do the cleaning up tomorrow.
Try wiping up any standing oil and grease from your granite or marble countertops as soon as you are done cooking. If you leave grease sitting on your countertop overnight, it might penetrate into the stone and leave a dark stain. Save yourself the headache and do a quick cleaning of your stone tops with either Akemi Crystal Clean or Lavenet.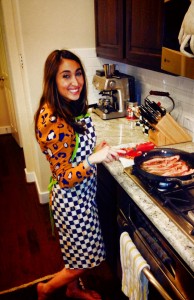 2. My stone is really hard; my Christmas tree stand and holiday decorations won't scratch my stone floor.
Your stone is hard, (think of the Acropolis!) but the finish on your stone is not. Even if your stone is sealed, the sealer does not protect your stone against scratches from your furniture or holiday decorations. Make sure you place a thick towel between your Christmas tree stand and your stone floor.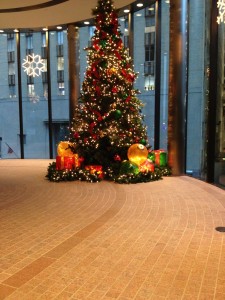 3. My stone is sealed, so none of my holiday food or drinks will hurt my marble countertops.
Unfortunately, no penetrating sealer, no matter how many applications of that sealer, will stop the AAA's: acid, ammonia, and alcohol. Many stones such as marble, travertine, terrazzo, limestone and even some "granites" will react (etch) when they come into contact with the three A's .
Etch marks are chemical burns when one of the three A's comes into contact with the stone surface. These marks look like the finish or the shine has been removed from the surface of the stone. Etch marks need to be re-honed or re-polished. If it is a small etch mark, you can try re-polishing it with our Etch Removing Kit. If you have multiple etch marks, International Stoneworks can re-hone or re-polish your stone.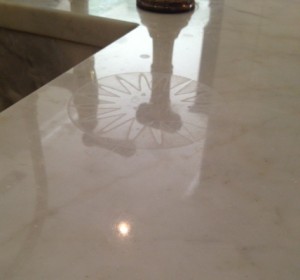 4. My travertine floor is looking a little patchy, especially in the kitchen area. I'll just clean it before my holiday party and it will look as good as new.
If you have travertine, limestone, terrazzo or marble in high traffic areas such as the kitchen or bathroom, you may need to have your stone re-polished or re-honed (sanded) every few years to remove etch marks and fine scratches.  Textured travertine and limestone can also be honed. Honing helps remove embedded dirt by deep cleaning the surface voids and grout. Light cleaning will not remove etch marks, fine scratches, or deeply embedded dirt.
5. I love lighting candles and putting them on my granite kitchen countertops!
As a stone restoration company, we see more oil and grease stains around this time of year, so how can you protect your marble and granite countertops? We recommend sealing your stone tops with Seal & Go® S or Seal & Go® W. These sealers are penetrating sealers, meaning they go into the pores of the stone and repel non-acid liquids like water, coffee, tea, grease, oil, etc. We recommend re-sealing your stone annually especially in kitchens and bathrooms. You may need to apply more than one application of the sealer.
The best way to avoid grease and oil stains is to not let the candles drip directly on the stone and try to wipe up grease as soon as you can. However, if the stains do occur, you can try applying a poultice such as Akemi Oil & Grease Remover Paste to try and draw out the stain.