We're going to take a short break from our usual stone care tips and go on another journey in our Adventures In Stone! I recently traveled to Florence, Italy to see my wonderful family and I had the opportunity to take a tour of the Richard Ginori Porcelain Manufactory, which is a working factory as well as a museum, known as Il Voltone, which houses some of the original shapes used in 1735, pretty cool right?
For those that are not familiar with Richard Ginori, The company was founded in 1735 by Marchese Carlo Ginori. It was originally known as the Doccia porcelain manufactory located near Florence. Ginori placed the factory near the Monte Morello, since the trees were plentiful and the wood fuelled the kilns.  He initiated experiments with local potting clays and soon hired J.K.W. Anreiter from Vienna to head the painting workshop. He also employed a local sculptor, Gaspero Bruschi, as the chief modeler.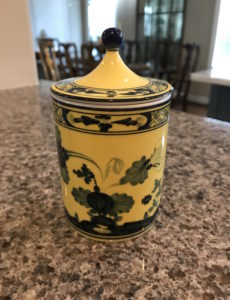 Ginori's early wares were made of a soft-paste imitation porcelain, common at that time.
The early Doccia paste was gritty in texture and gray in color. They used innovative decorating techniques for that time, which included transfer-printing and the "stampino" (stencil).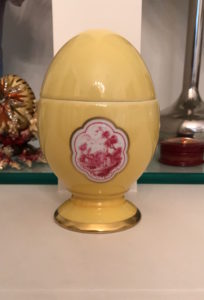 Ginori remained a family business when the manufactory was passed on to his three sons. These sons adopted a new whiter porcelain with tin oxide and added a glaze to increase whiteness, closer to what is used today. Presently, Ginori's porcelain consists of 50% Kaolin, 25% Quartz and 25% Feldspar.
The Manufactory consists of four departments:
Colo Artistico
This is the area where casting is performed. The slip liquid is poured into the hollow shapes and molds and gradually coats the interior. The remainder of the slip is poured out and voilà: the slip has dried and retained the form.
Each piece is then checked and perfected by hand before the firing process.
Invetratura e Scelta
At this point, the pieces are glazed and sorted. Only the best pieces are kept. If a piece isn't smooth or has a defect, it is set aside for recycling.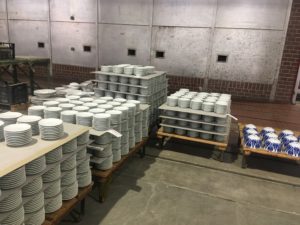 Decoro a Mano
Each Ginori piece (everything from a tea cup to an urn) is decorated by hand, via application of decals or hand-painting. The level of concentration in this department is very intense. These artists are perfectionists and must have steady hands.
Modellazione
I like to think that the modelling department is the area for inventors! They create prototypes, which take into account the shrinking and softening of the porcelain. Also, I'm a little partial to the Modellazione because my cousin works there! I think my cousin took all the artistic genes in the family, but I am glad to say that all the work stations have white marble table tops because clearly natural stone is the best work surface!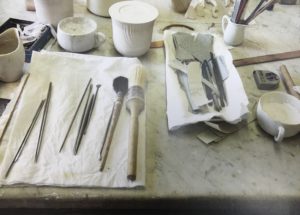 In April 2013, Ginori was acquired by Gucci and is now part of the Kering Group (other companies under Kering include Puma and Yves Saint Laurent).
My trip to Richard Ginori was truly a privilege. It was amazing to see all the artists in the various departments at work. The craftsmanship and hand work is truly a sight to behold. Public tours are available, but make sure to reserve in advance.  If you are planning a trip to Florence, take a break from the museums and head over to this amazing manufactory to witness another side of Florence's history.