This week I'm taking a break from our usually informative blog posts to announce that we are moving locations into a brand-spanking new office!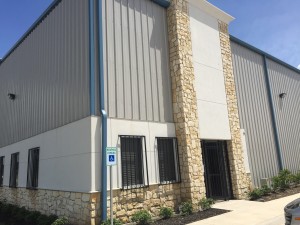 Our company is growing and after 15 years in the same location, we have outgrown our premises. We have recently purchased a 12,000 square foot office/warehouse facility and will begin our moving process to this new location starting September 12, 2016.
Our business, including website, e-mail and telephones, will not change, but our new physical address will be:
International Stoneworks, Inc.
8650 Fairbanks North Houston Road
Houston, Texas 77064
Now let's get to the fun part: our design choices! You'll find that we went practical in certain areas, but made a statement with our stone choices as well.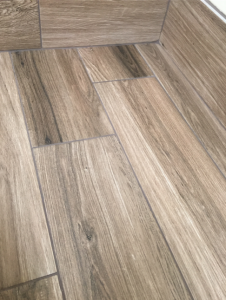 Tile Flooring
Throughout the office, we picked a gorgeous porcelain tile floor that resembles the look of wood. This tile is practical from a maintenance stand point, very easy to clean with a solution of Lavenet neutral cleaner. It also has such an interesting and unique look; you have to look twice to realize that the material is not wood.
Restroom Vanities and Kitchen Countertop
Since the restrooms and kitchen will be used by all of our employees, we had to pick a durable material – we went with a beautiful Luna Pearl Granite for the vanities and countertops. Since granite is silica based, it will not acid etch, but we for certain will seal it annually with Seal & Go® S to protect against grease and oil stains. We'll also clean daily with Akemi Crystal Clean to control calcium deposits around the sink.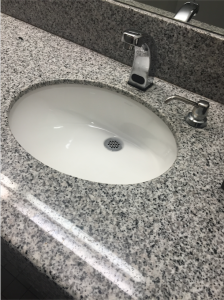 For the kitchen backsplash, we went with the tried and true white subway tile, but chose a grey grout. This grey grout provides a nice contrast with the white tile; it is also easy to maintain. When we seal the granite countertops with Seal & Go® S, we will also seal the grout of the backsplash as well.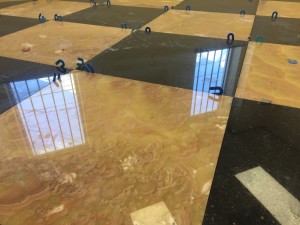 Executive Office Floor
This stone floor is very unique. Owner Rawi Tabbah picked out a checkered floor with Honey Onyx and Black Galaxy Granite. Yes, we know onyx reacts to acids and scratches easily, but we are in the stone restoration business after all! We'll clean the stone regularly with Lavenet neutral cleaner and re-polish the traffic areas as needed.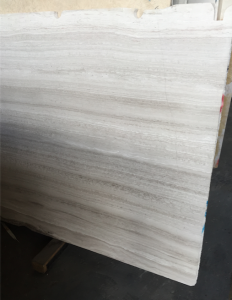 Foyer Floor
We now have a grand entrance! We picked out several stones for this floor: White Carrara White Marble, Roman Travertine, Black Absolute Granite, Crema Marfil Marble, and Silverthorne Limestone.
What do all these stones have in common? We see them all the time in homes and buildings. We wanted to choose natural stones that our customers can relate to and be able to point out to us when they come to our location. When customers come in not knowing exactly what type of stone they have, we will use this foyer floor to help answer stone care questions.
At the end of the day, our office needs to be functional, but we also want to better serve our customers. We look forward to this exciting chapter and hope to see you soon in our new office!