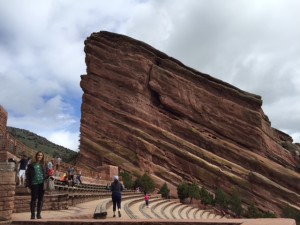 Not surprisingly this gorgeous geological formation used to be known as the Garden of Angels, but today it's called the Red Rocks.
Red Rocks Park and Amphitheatre is a naturally formed, outdoor venue near Denver, Colorado. Not only was I lucky enough to see it with my own eyes, but I also listened to the formation's perfect acoustics.
Nestled between two huge red Sandstone formations known as Creation Rock and Ship Rock, a stage and rows were built. As I took my seat along the long rows, the music was clear and crisp as it reverberated off the huge Sandstone rocks. I am not the first to experience this gorgeous fusion of geology and music. Concerts have been played here since the early 1900's. Did I mention that The Red Rocks Park offers a 200 mile panorama of Denver and the surrounding plains? Not a bad view!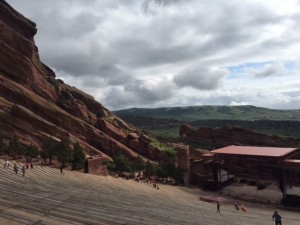 But how did this formation come to be and what makes the Red Rocks red?
Over millions of years, continuing episodes and gradual movements in the Earth progressively raised the Sandstone and created these amazing formations. In the Park, the ledges look like shelves in some areas and in the Red Rocks Amphitheatre you can see the Sandstone has developed into what looks like huge walls! In fact, dinosaur tracks and fossil have been discovered at the Red Rocks.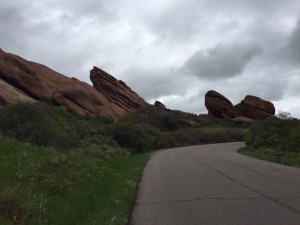 The Sandstone found throughout Red Rocks Park and Amphitheatre is geologically classified as belonging to the Fountain Formation. The red color is most likely due to the iron oxides and pink feldspar grains.
This place is a wonder to see. If you are a music lover, a geology enthusiast, or just a sightseer, visiting the Red Rocks is a must. If you have the occasion, take in a concert in the Amphitheatre. As the sun goes down, lights illuminate the Sandstone rocks and the stars wink at you from the night sky above.
Stay tuned next week. I'll discuss how Sandstone can be used in your homes and buildings and how it is maintained.