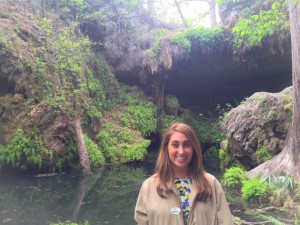 On my latest Texas road trip to Austin, we stumbled across the Westcave Natural Preserve in the Texas Hill Country. Of course we had to make a detour and learn about this fantastic stone formation.
The Westcave Preserve is about 30 acres and encompasses two different ecosystems. The grasslands located above the visible limestone formations are in full bloom this time of year with the Texas state flower, the Blue Bonnet. It was so gorgeous to see, but as you all know I am more interested in the natural stones that have formed this Texas grotto and cave.
Below the fields of Blue Bonnets, you can see the jagged limestone and shale that give way to a 40-foot waterfall that pours into a gorgeous limestone grotto. Behind the waterfall is a cave with travertine columns that have formed at the cave's opening.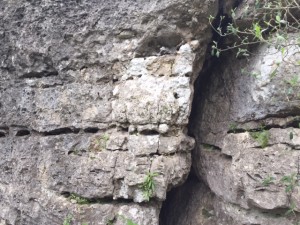 Just to recap, that's three types of stones at the Westcave Natural Preserve:
1. Shale – a sedimentary rock made of mud, clay, and other minerals such as quartz and calcite. Shale is a brittle stone and is not installed in homes and buildings, but it can be used along with other materials to make clay or cement.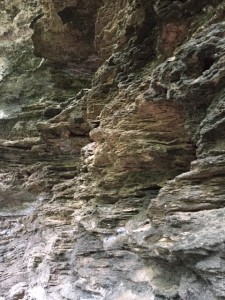 2. Limestone – a calcareous stone which can appear to have a consistent color or contains small visible fossils. Limestone is a popular material for both residential and commercial properties.
3. Travertine – a calcareous stone that typically has voids (holes) that can be filled during the fabrication process or during restoration.  Most travertine is beige in color. It can have a honed (flat) finish or it can be naturally polished into a medium shine.
If you ever find yourself in the Texas Hill Country near Austin, The Texas Westcave Natural Preserve is worth a stop. The stone formations, cave, and waterfall are simply stunning. If you need a little more incentive, there is also a small winery down the road, which of course I visited as well. It is really amazing how natural stone can create such beautiful formations.