You just moved into your newly-built home; now what do you do with your new stone installations?
Kitchen countertops & Bathroom vanities
Whether you have marble or granite kitchen countertops, we highly recommend having an initial clean and seal. This process is something you can easily do yourself. Clean the stone first with Akemi Crystal Clean. You can seal the stone with impregnating sealer, Seal & Go® S. This product is a penetrating sealer, which will not add any shine or color to the stone surface. Seal & Go® S should be applied on the stone surface with 2 applications with 12 hours between applications. For more instructions on how to seal your natural stone, click here.
Not sure if the builder sealed your stone already? Ask your builder first. If he/she is not sure, here is a simple test: put some water on the stone for about 15 minutes and then wipe up. If the stone has become darkened in that area, it is not sealed or it is not sealed enough.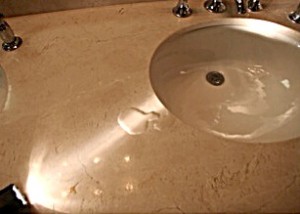 Travertine, Marble or Limestone floors
Sometimes after construction, newly-installed stone floors may have some light scratches, residues, or etch marks. You may need to have a professional company like International Stoneworks, Inc. come and lightly polish or hone the stone floor.
If you do not see any construction residues or scratches, all you need is an initial clean and seal, especially in high traffic areas such as the kitchen and bathrooms. You can clean the stone with Lavenet neutral stone cleaner or Lavenet Green. We again recommend sealing with Seal & Go® S. Seal with two applications, 12 hours between applications.
Stone showers
It is very important to make sure that your stone shower is sealed.  To help prevent water from penetrating into the stone, I recommend sealing with impregnator sealers, Seal & Go® S or Seal & Go® W on an annual basis. Sealing helps protect your stone against the constant exposure to water and oil-based products.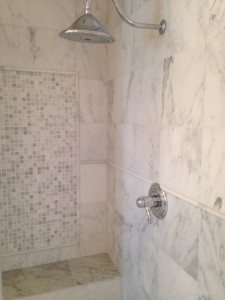 Marble, travertine limestone, terrazzo, and certain granites will eventually need to be restored (customers usually call us anywhere between 2 to 5 years after installation).  These stones react to acids (etch) and can wear over time. Also, don't forget that you need to re-seal your stone annually – 1 application will do when you are re-sealing stone on a yearly basis.