Myth 1: Vinegar will clean and disinfect any surface.
Stones such as marble, travertine, terrazzo, limestone and even some granites will react (etch) when they come into contact with acids such as vinegar. 
These etch marks look like the finish or the shine has been removed from the surface of the stone and these marks cannot simply be cleaned off. You will need to re-hone or re-polish your stone to remove etch marks. Stick to neutral stone cleaners such as Lavenet, Lavenet Green and Akemi Crystal Clean.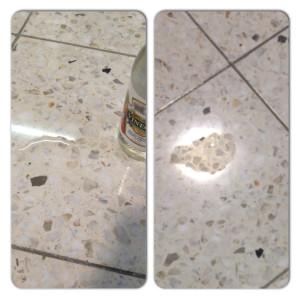 Myth 2: If sealing doesn't protect my marble against acids, there is no reason for me to seal.
Okay, okay. Sealers won't stop acids, ammonia, or alcohol (you are right about that), but we still recommend sealing your stone with a penetrating sealer such as Seal & Go® S or Seal & Go® W at least once a year.  Sealers are great against oil, grease, coffee, tea, etc. Sealers stop non-acid liquids and oil from penetrating into the stone and prevent dark staining, which is important around areas such as cook tops. Personally, I'm a messy cook, so it's imperative for me to seal my countertops annually!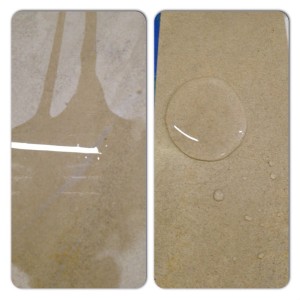 Myth 3: I do not need to restore my stone. It was installed only 2 years ago: it's new!
Natural stone, especially marble and limestone immediately react to acids, ammonia and alcohol, so if you spill orange juice on your marble an hour after installation, you will need the marble re-polished or re-honed. Softer stones require more maintenance. Buildings may need monthly, quarterly or annual maintenance. Homes may need refinishing after two to five years.
Myth 4: Power washing will really clean my exterior travertine, flagstone, slate and granite.
Power washing your natural stone is not a good idea. Natural stone requires a more delicate touch and power washing is just way too powerful for your stone. It can erode the surface of granite, slate or flagstone; it can remove fills in your travertine and will expose more voids; it can also remove the grout between joints.
If you want to clean your exterior stone, stick to damp mopping or scrubbing with a soft brush using water and neutral cleaners like Lavenet.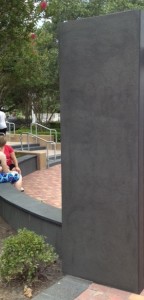 Myth 5: I don't want to refinish my stone because I don't want all that dust in my house/building.
Our restoration and maintenance of natural stone and tile is a wet process. Because it is a wet process, we do not create dust, but we do cover all baseboards and surrounding areas.
Stay tuned for Part II next week. We will be debunking more myths!