Ok, so you're stuck at home and you've already finished Tiger King on Netflix. Why not take this time to do some of your natural stone care chores that you've been putting off? Here are some ideas that will not only keep you busy, but will also make you feel good that you finally got around to taking care of your natural stone investments!
1. Seal your natural stone and grout surfaces
We recommend sealing your marble, granite, limestone, travertine and other stone surfaces annually (especially areas that you use all the time such as your kitchen tops and bathroom showers).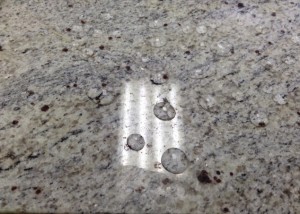 Instructions:
– Clean the surface first with Lavenet or Lavenet Green neutral cleaner. After a good cleaning, apply penetrating sealer, Seal & Go® S to protect your stone investments.
– When you use Seal & Go® S, put a trigger sprayer on the pint bottle and spray the sealer in a mist form all over the countertops.
– Wait no more than 20 minutes and then thoroughly wipe off all the remaining residue with a clean cotton cloth.
– If you have never sealed your stone, repeat the process, so you've applied two applications.
– Make sure you clean up all residues otherwise the sealer will become sticky. Please make sure that you do NOT allow the sealer to dry.
– Wait 12 hours before you use the countertop, so the sealer can cure.
Sealing annually helps with daily cleaning and maintenance. Please note that sealers do not stop acid etching, but they do help with oil and grease repellency.
2. Remove that annoying stain that's been driving you nuts
Areas that are stained appear darker in color, yet are still smooth to the touch. Usually oil or grease are the culprits here. I typically see grease stains on kitchen countertops or candle wax oil stains.
If you have a surface stain on your stone, you can apply a poultice, S.A.C. (Stain Absorbing Compound).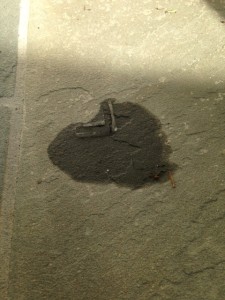 Per the Natural Stone Institute Glossary, a poultice is "a liquid cleaner or chemical mixed with white absorbent material to form a thick, stain removing paste." Poultices need to be applied, covered with plastic wrap and blue tape and are usually left on the stain overnight or for a few hours. Clean the poultice off with neutral cleaner, Lavenet and wait for the area to dry in order to see if the poultice was effective. You may have to poultice the stained area more than once.
3. Remove the small acid etch mark or ring mark from your marble top
Marble, limestone, travertine and onyx are prone to acid etch marks from certain food, drink and acid-based cleaning products. In other words, some stones react (etch) when acid, ammonia, or alcohol is spilled. An etch mark looks like the shine or finish has been removed from the stone.
When this happens, you may need to re-hone or re-polish your countertops to remove these etch marks. Etch marks cannot be cleaned off; the surface of the stone needs to be restored. If you have a ring mark or small acid etch mark, you can try the Etch Removing Kit. (Also available locally at Bering's Hardware.) For larger cases, International Stoneworks can refinish your stone surfaces on-site with our no-wax system. And while we are there, we can seal your tops too!