Many of you know that we restore residential and commercial natural stone surfaces and these two settings couldn't be more different when it comes to stone care. This blog will focus on where and when stone surfaces need the most attention when it comes to commercial properties.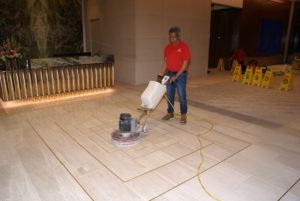 Interior Floors: Heavy Traffic Areas
First off, compared to a residential setting, there is a ton more foot traffic! Also, if you take the time to observe how people walk through lobbies, you will start to notice that people tend to walk in the same paths: they walk to and from the garage, close to the wall corners, stop at the security desk and they shuffle their feet in elevator cabs.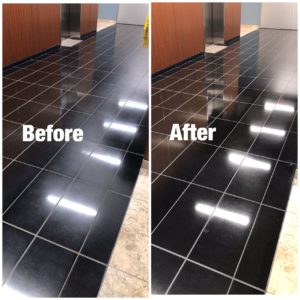 These "traffic areas" typically have more wear and need the most stone maintenance…and yes, even though you may have a tough granite surface, even granite can wear over time. If these particular areas are maintained regularly by International Stoneworks, then the need for a full stone restoration may not be necessary.
Exterior Stone Plazas and Breezeways
Not only traffic, but weather can take a toll on the surface of natural stone. Dirt can accumulate and embed in textured stones such as flamed granite. Also, color and shine can diminish due to the elements. International Stoneworks can help restore exterior stone floors and walls. We scrub clean textured stones and can remove many gum stains too. We can also re-hone or re-polish as needed. We also recommend a good annual sealing to protect the stone and grout surface.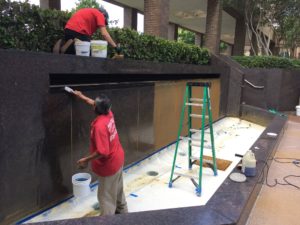 Fountains
No way to get around it, fountains just need regular TLC. The constant exposure to water can wear stone and white calcium deposits can form on the surface of stone and tile. These stone fountains need to be maintained regularly, so the deposits do not build up and harden. International Stoneworks can regularly clean these water deposits off and protect the stone and grout with our penetrating sealers.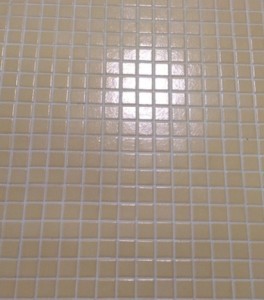 Bathroom Floors
Whether it's dirty grout, mop marks on the base or just an overall dirty appearance, International Stoneworks can scrub clean tile and grout. We also offer the Tile Glow® System, a natural, non-wax compound for the natural polishing and restoration of ceramic, porcelain and quarry tile floors. Bathroom floors will have a natural shine and never have to be stripped again – pretty cool right?