Yes, I am expecting my first baby, a boy, and it's exciting and a little terrifying. Suddenly, I felt as though there was a ticking clock, indicating that I just had to get my house ready for this baby. As I'm in the stone restoration business, my first thought was to prep all my stone surfaces as I had just moved into a new home.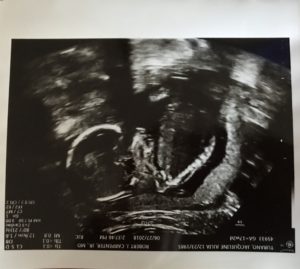 First thing's first, a good cleaning! I always clean regularly with my tried and true Lavenet Green. I feel completely safe using this stone cleaner as it is biodegradable, pH-neutral, environmentally friendly and is just a wonderful cleaner of all natural stone surfaces. I used Lavenet Green on all of my marble countertops and scrubbed clean my tile floors. It's great for all stone and tile surfaces, yet is mild and safe for me to use. Since this was a new home, I did not need to use restoration techniques to remove fine scratches, acid etch marks and embedded dirt; however, I know I can always have International Stoneworks come in and take care of these issues down the road when I need it.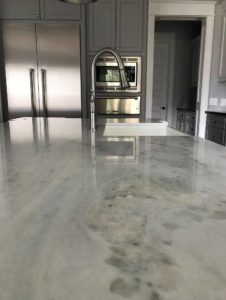 Sealing and protecting stone before baby arrives is equally as important to me. I usually recommend a solvent-based penetrating sealer like Seal & Go® S, but as I am feeling overly cautious these days, I decided to go with Seal & Go® W during my pregnancy. It is a water-based penetrating sealer that is VOC compliant. I wanted to be sure that the areas I use most in my home were protected: kitchen tops, and bathroom floors, tops and showers. Also, the great part about sealing stone floors and showers is that you seal the whole surface: stone and grout.
I also would like to point out that if you are also expecting and feel as though you do not have the energy to clean and protect your stone surfaces at this moment, International Stoneworks can refinish your stone and tile surfaces for you – you don't have to lift a finger! Stone restoration is a wet process and there is no dust involved. If you are not near the Houston area, then contact your local stone restoration company.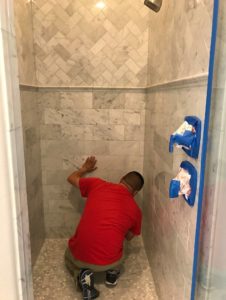 Now is a good time to take care of your easy home repairs. The further along I get, the more I want to focus on more baby-related changes.
I did feel much better and very accomplished after taking this preliminary step to preparing my house before my baby arrived. Now all I have to worry about is getting the nursery together – Yikes!
Becoming a mommy is already a bit frightening (well at least for me it is), but prepping your stone surfaces before baby certainly does not have to be.