Summer has officially begun (in case you haven't notice with these soaring temperatures). Here are some helpful tips that will get you through these Summer months and allow you to enjoy your outdoor slate, limestone, travertine, marble or flagstone pools, patios and kitchens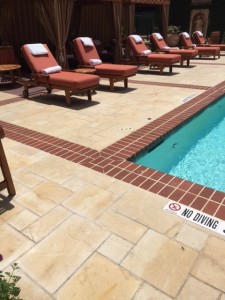 1. Avoid sealing hot stone surfaces
We recommend sealing stone patios and grill tops earlier in the morning or in the evening after the stone surface has cooled down. When sealing with penetrating sealers such as Seal & Go® S and Seal & Go® W, the sealer needs to be left on the stone surface for about 15-20 minutes in order to penetrate into the pores of the stone and grout – then wipe off. If the stone surface is hot, the sealer will dry too quickly and may become sticky or greasy. For more sealing tips, click here: "Smooth Sealing."
2. Disinfect grill tops with non-acid cleaners
If it has been a few months since you used your outdoor grill, it may be a good idea to disinfect the stone countertop before cooking. Clean with Sani-Tyze. This product does not contain acid, so it will not harm or etch your stone surface; you can safely disinfect your stone tops.
3. Clean off pollen and surface dirt
Stone surfaces need regular care and maintenance. It's a good idea to regularly clean off pollen and dirt from your exterior stone surfaces, so these natural elements won't build up and stain the material. We recommend cleaning your stone surface with neutral cleaners, Lavenet or Lavenet Green.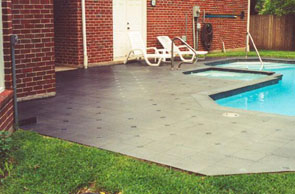 4. Use specialty cleaners for algae, mildew and calcium deposits
Neutral stone cleaners may not be strong enough to remove algae, mildew and white calcium deposits. Akemi Algae and Mildew Remover is a good option if you have these growths. (Remember to cover surrounding plants.)
If you have a fountain or pool with calcium deposits, please contact International Stoneworks. Depending on what type of stone you have, we can offer a solution.
5. Enjoy those patios and pool decks!
You wait all year to use your gorgeous outdoor areas and summer kitchens – so go out there and enjoy!