We've had a rainy few months here in the South and you know what that means: frizzy hair, less pool time, and mildew stains on our exterior stone. Of course these mildew and rain stains show up even more on lighter colored and porous stones such as limestone, travertine and cast stone. I typically see this issue on exterior walls, patio floors, columns, and under potted plants.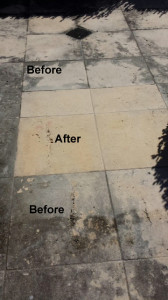 When it comes to these types of stains, you have to do more than just "clean" the surface. You need to actually kill the mildew and/or algae.
So how can we remove these stains and marks from our exterior patios, walls, walkways, and even gravestones? If you are dealing with natural stone, you have to be careful not to use extremely acidic products; you don't want to solve the issue of mildew, while creating a new problem of harming (or etching) your stone surface.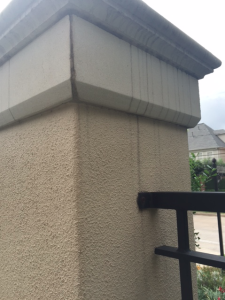 We recommend stone safe products, like Akemi Algae and Mildew Remover to eliminate mildew while not etching the stone surface. Algae and Mildew Remover is a rapidly effective, alkaline cleaner based on active compounds. It is solvent-free product that thoroughly removes natural layers on natural and cast stone surfaces.
Just a quick heads up: when using Algae and Mildew Remover, or a similar product, keep away from surrounding plants and wood. The point of this product is to kill mildew, so keep in mind that it will damage plants and flowers. Do what you can to protect and cover surrounding plants.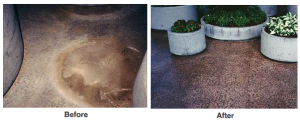 Algae and Mildew Remover should be used on an as-needed basis. Remember that regular cleaning and maintenance is always recommended for exterior stone surfaces. A great neutral cleaner for all types of stones or masonry surfaces in Lavenet.
We can't control the weather, but we can try to reduce the algae and mildew that grows on our exterior stone surfaces.