I've heard of the Getty Center in Los Angeles, but I recently learned about and explored the Getty Villa in Malibu, and here begins my latest adventure in stone! As I stepped onto this remarkable compound, it was as though I was stepping back in time into a gorgeous villa in Herculaneum. This is the exact feeling that J. Paul Getty wanted to provoke.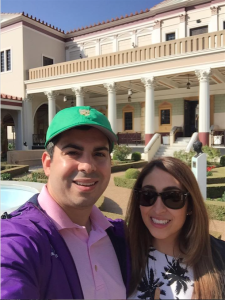 The Getty Villa in Malibu is the original location of the J. Paul Getty Museum. He purchased the sixty-four acre piece of land in 1945 and in 1954, he finally opened the first J. Paul Getty Museum in his home to exhibit his collection of Greek and Roman antiquities.
In 1968, Getty decided to recreate a first century Roman country house, the Villa dei Papiri, on the property to display his growing art collection. He opened this new museum in 1974 to the public, becoming one of Southern California's cultural landmarks. Years later in 1997, the Malibu site closed for renovations and in 2006 the newly renovated Getty Villa opened and is dedicated to the study of the arts and cultures of ancient Greece, Rome and Etruria (the central part of the Italian peninsula).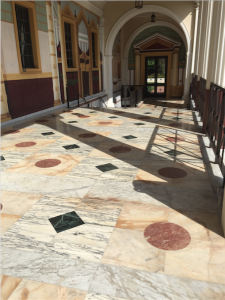 So what exactly is the Villa dei Papiri? And why would Getty want to re-imagine this location? The Villa dei Papiri was a Roman country house in Herculaneum buried by the eruption of Mt. Vesuvius in 79 A.D. Today, most of the actual Villa dei Pairi remains unexcavated, so most of the Getty Villa's architectural details are based on elements drawn from other ancient Roman homes in the towns of Pompeii, Herculaneum and Stabiae.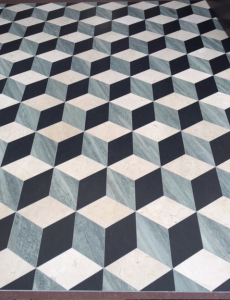 The Getty Villa houses over 1,200 works of art, many of these pieces depict ancient gods and goddesses. The Villa also incorporates gorgeous gardens with herbs and plants typically found in the Mediterranean region. During our visit we also viewed a special exhibit on the second floor, "Roman Mosaics Across the Empire."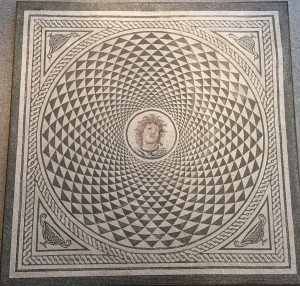 Oh! And did I mention that the Villa also has a full size exterior amphitheater with a stunning black marble floor?! The theater holds various performances, lectures and symposia throughout the year.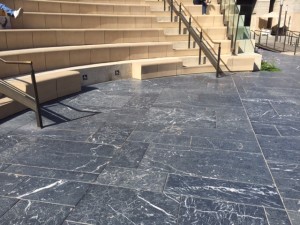 Today, the Villa hosts the UCLA/ Getty Master's Program, the only graduate level program in the U.S. that focuses on archeological and ethnographic materials.
Please stay tuned for next week because this blog is going to be a two-parter. I will be writing about specific Getty Villa marble statues and floors that are absolutely breathtaking!