What would a Tabbah trip to Italy be without a blog appreciating gorgeous Italian architecture? My parents, Rawi and Jane recently visited San Miniato, a city nestled in the Tuscan landscape between Florence and Pisa. This town possesses architectural and artistic treasures, not to mention delicious wine and white truffle mushrooms- yum!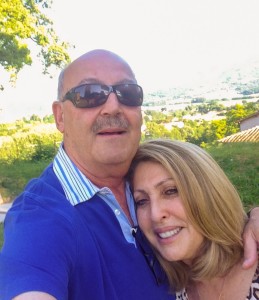 The highlight of their day trip to San Miniato was visiting the cathedral, the Duomo in San Miniato, built and dedicated to Sant'Assunta and Santo Genesio of Rome. The structure became a cathedral in 1622. Originally, the Duomo was constructed in the Romanesque style, but as the city of San Minato has grown around it, so has the church. It has been remodeled a few times and now has Gothic and Renaissance architectural elements. The exterior of the cathedral displays majolica bowls (colorful Italian tin-glazed pottery dating from the Renaissance period), The Campanile (or bell tower) is called the Matilde Tower, which was added on at a later date and features an asymmetrical clock.  After heavy bombing during WWII, the San Minato tower was rebuilt and symbolized a rebirth of the town.
Now let's get to the good stuff: the marble interior of the cathedral!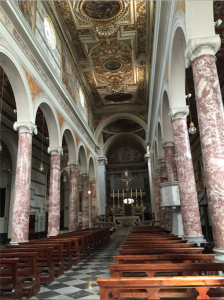 The interior of the Duomo has a Latin Cross layout (a central point with two side aisles). The interior Baroque décor reflects the 19th century works by Pietro Bernardini. The original octagonal pillars were adorned with new decorations and the arches rest on two rows of polychrome marble columns. The gilded ceiling of the Cathedral features detailed frescoes.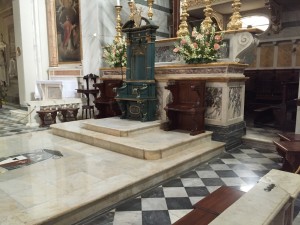 In the middle of the nave, to the the right, is the marble pulpit of Amalia Dupré. Another marble centerpiece of the cathedral is the marble baptismal font at the front of the nave. It is shaped like a vase and was sculpted by Giovan Battista Sandrini in 1639.
The presbytery in the middle of the vault, is surrounded by a balustrade made of multicolored marble and under the arch of the apse, lies the main baroque altar. There is also a remarkable 18th century wooden crucifix crafted by artists from Pisa, located behind the Episcopal throne.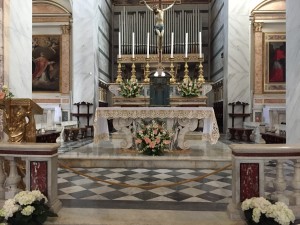 San Miniato may be a small town, but it is full of beautiful architecture, history and of course delicious food. Hopefully, I can make it there on my next big trip, but until then I will just admire these stunning photographs of this special Duomo.