Last week I gave you a brief history of the Getty Villa, please click here if you would like to learn more about J. Paul Getty and his amazing Malibu compound.
For those of you who are up to speed, let's dive right into the most notable marble statue at the Getty Villa:
The Lansdowne Herakles
This Roman art statue is situated in its own temple, the Temple of Herakles. J. Paul Getty considered this piece his most prized possession and it inspired him to build the Getty Villa Museum. The statue was discovered in 1790 near the villa of the Roman emperor, Hadrian. The statue was restored in the 18th century and again in the 20th century. Restoration included reworking broken surfaces and replacing missing pieces.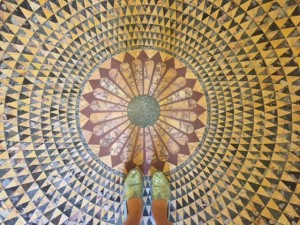 The elaborate floor of the Temple of Herakles is a work of art on its own. It is a replica of a floor from the Villa dei Papiri, composed of alternating triangles of Numidian yellow and Africano/ or dark gray Lucullan marble. The stones are formed into a complex geometric pattern, favored by the ancient Romans. The floor is composed of approximately four thousand pieces of stone, specifically: Giallo Antico, Africano, Red Porphyry, Rosso Antico, Travertine and Verdi Antico.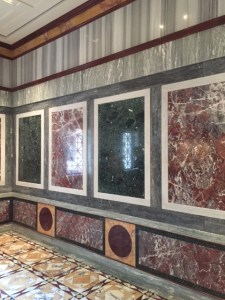 The Hall of Colored Marbles
This room emulates the kind of luxurious rooms that served as a status symbol during the Roman Imperial period. Ancient Romans used a variety of marbles to cover floors and walls as well as to line fountains and pools. The stones were imported from distant lands. Different stones not only provided colorful decoration, but also demonstrated the wealth, power and vast conquests of Rome.
The design of this Getty Villa room was inspired by buildings in Pompeii and Herculaneum. Parts of the walls in this particular room were modeled after the House of the Vettii in Pompeii. The floor was cut entirely from salvaged ancient fragments and resembles the floor from the House of the Relief of Telephos in Herculaneum. Specifically, the marbles of this floor are: Cipollino, Fior di Pesco, Giallo Antico, Green Porphyry, Marathon Gray, Pavonazzetto di Frigia, Pentellic, Red Porphyry, Rosso Antico, Verde Antico and White Carrara.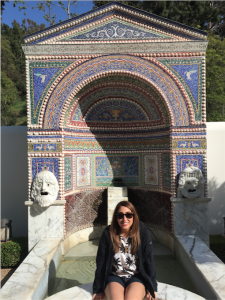 Pompeii Fountain
In the East Garden of the Getty Villa, we stumbled upon a beautiful fountain. This colorful, mosaic fountain is composed of shells and theater masks. It is a replica of an ancient fountain in the House of the Large Fountain in Pompeii.
The Getty Villa is truly a remarkable site with so many treasures, from the ancient artwork to the lush gardens. I hope to go back one day to see this stunning museum set in the hills of Malibu, California. In conclusion, I will leave you with a quotation from J. Paul Getty:
"The beauty one can find in art is one of the pitifully few real and lasting products of human endeavor."