It is impossible to travel to Colorado Springs and not mention the clean mountain air and the incredible geography. Last week I discussed the unique and historical Broadmoor Hotel, but this week in my Colorado Springs Part II blog, it's all about the remarkable landscape.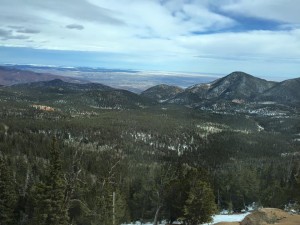 On my second day in this incredible city, we ascended the steep mountains on the Pikes Peak Cog Railway. As the train climbed up the mountain, I noticed these amazingly large granite boulders. The stone is aptly named Pikes Peak Granite. Our knowledgeable conductor gave me some information about these granite boulders. He said: as we go higher and higher into the mountains, you will notice that the boulders become smaller. The reason is due to "Ice Wedging," a term I was unfamiliar with. Ice Wedging occurs when water flows into the small crevices of the rocks, as the water hardens into ice in colder temperatures, the ice expands and causes the boulders to break apart into smaller pieces- pretty cool! I'd love to actually see that in action.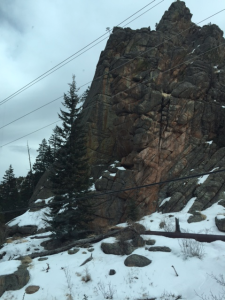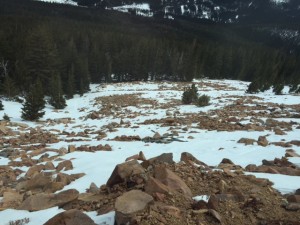 As we chugged along towards the Summit, I did see the boulders becoming smaller and smaller, I also couldn't help but marvel at the amazing view. It is easy to understand how these glorious mountains inspired Katherine Lee Bates to write "America The Beautiful."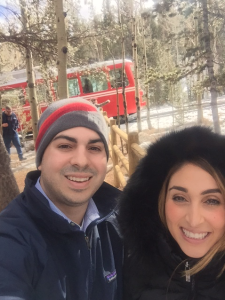 As we descended back to the city, our next stop was the Garden of the Gods. The rocks at the Garden of the Gods are approximately 300 million years old and they stretch for about a mile.
The rocks at the Garden of the Gods consist of:
Pikes Peak Granite (which I also saw on the Cog Train up Pikes Peak)
Fountain Conglomerate
Lyons Sandstone
Lykins Dolomite
Dakota Sandstone
Niobrara Limestone
Colorado has a diverse and remarkable geology, from the vistas of the eastern plains to the red rock canyons west of Colorado. More information about that on my blog, "Adventures in Stone: Red Rocks Park & Amphitheatre."
When I look at these striking boulders, it really makes me think about how truly amazing this world is that we live in. I feel so small next to these strikingly large red rocks and to think that some of them are millions of years old – that really is something! We are surrounded by gorgeous geology and I feel very lucky that everyday at work, I have the opportunity to restore these materials, whether it is a smooth sandstone countertop or a granite lobby floor. I love that I have the opportunity to preserve and beautify what nature has given us.