For those of you who do not know, International Stoneworks is a family business. Rawi Tabbah and his daughter (me!) Jacqueline work together as a team in Houston's premier natural stone restoration and maintenance business. But what about the rest of the family? This week's blog is all about the other Tabbah daughter, Stephanie. She always comes to our conferences and classes and supports us, so I want to take the time to support her! She is the Event Sales Manager at Houston's hottest restaurants: Hunky Dory and Bernadine's. She also has her own lifestyle vlog (video blog), "#SJGlam" on YouTube.  She took the time to sit down with me and answer a few fun questions.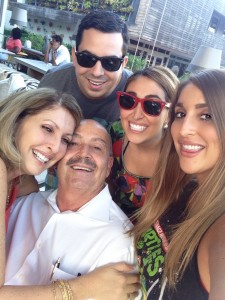 JT: Give us a little background about you and your professions.
ST: I have over 10 years experience in the hospitality industry, ranging from spa management to event planning. I've worked in both Houston and Las Vegas. In recent years, I have taken a shine to creative and journalistic writing and began freelancing, a hobby that I have really enjoyed and has been quite rewarding for me. It has opened up many doors for me in terms of both networking and new friendships.
JT: What do you think is special about the Hunky Dory and Bernadine concepts?
ST: Hunky Dory and Bernadine's are the only restaurants in the States that are connected in structure, but separated by staff and by kitchen. They are each their own "free standing" restaurants, with the one exception that they share a building. That is what makes them unique, of course, apart from the vastly different cuisine served at each venue. Hunky Dory consists of clever, elevated British food with pub-style influences and a roaring open hearth at its center, while Bernadine's is a "love letter" to the Gulf Coast, with nuances of Soul, Creole, Cajun and Gulf Coast Seafood dishes. Both Chefs and staff are so amazing in their own ways. Treadsack Management is known for being innovative; I would go so far as to say they are truly on the cutting edge of the restaurant industry trends of the day.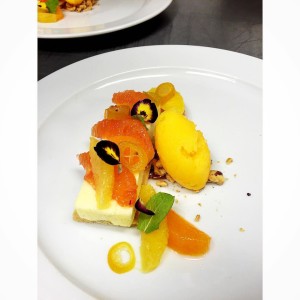 JT: Tell us about the Stephanie Joplin brand and #SJGlam. How did you get started?
ST: Stephanie Joplin was a brand that launched on Twitter three years ago. I was live tweeting anything from TV shows to sports games to UFC fights, and I created a following who coaxed me into starting a blog. I quickly became known as one of the women's faces in Houston sports and was asked to be featured in Houston Modern Luxury Magazine, to be a staff writer for the (then) FoxSportsHouston.com, and was asked to become a staff writer and live tweet fight cards for Legacy Fighting Championships, a regional and very popular MMA promotion. I also landed an interview with Wade Phillips, former defensive coordinator for the Houston Texans, within 3 months of starting my blog.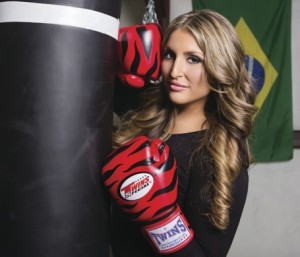 From Twitter, I graduated to Instagram, and from there I found that many were interested in my life and what I had going on; where I was going, what makeup I was wearing. I had many friends insist that I start a YouTube channel and do makeup reviews and tutorials. I have other ideas in mind, but so far I have published five or six videos and I have really enjoyed the feedback. Many of my friends have sent me photos of their own results and have been coming to me for product advice. I did a vlog on the Texans Wild Card game, where they lost by 30 points to the Chiefs (yikes!) It's basically all about vibes —  so whatever mood I am in when I film a video is what will be reflected. It's what I want to talk about. If the viewer feels my vibe, then they can follow along on the journey by subscribing to my channel.
JT: What topics do you cover on your vlog?
ST: Any topic really; I haven't streamlined it yet because I am still figuring out who my audience is. I have done some makeup tutorials, some sports talk, beauty hauls, product reviews, traveling… I really want to talk about dating and other lifestyle topics as well. I hope to have on some "guest stars" so they can give a different perspective than perhaps the one that I possess.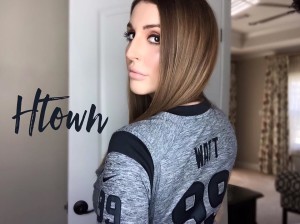 JT: Any chance of an International Stoneworks and #SJGlam vlog collaboration?
ST: Absolutely something that has been on the docket! I think it would be fun to do a vlog showing what makeup/toiletry mistakes to avoid in the bathroom in reference to stone care and maintenance, and of course how to clean them up if accidents happen.
JT: What message do you want to convey to your viewers?
ST: I think it's really important to take a risk and put yourself out there. It's not for everyone, but I do believe in being really honest with yourself about your faults and then showing those to the world with no regrets or reservation.
JT: What social networks are you active on and how do you use them?
ST: I am active on Facebook, Instagram and Twitter. I don't have Snap Chat because I really don't understand it at all. And, of course, YouTube!
JT: What lessons have you learned along the way?
ST: I've learned that people's opinions may hurt me, but that they ultimately don't matter to me. I've also learned that companies respond much more quickly via a social media platform than say, via snail mail or email, or contacting through their website. It's a great way to communicate with those who normally would not be able to see your messages. This can, of course, be good and bad; the internet is both an evil and a beautiful place!
JT: Any parting words?
ST: I am such a huge fan of the International Stoneworks blog. I think that it adds something to the stone maintenance and restoration industry that just has not been there before – a fresh face on something that was once a bit "stale," to be honest. I think collaborating together would be a really great way to help the "millennials," who otherwise would have no idea that you can't spray perfume on your marble counter top, understand why stone maintenance is so important. The people in my age bracket are now starting to leave the apartment life and move in to homes, so I think this partnership would be super beneficial. Thank you for interviewing me!
JT: Thank you, Stephanie!