You've probably seen us tweet, Facebook post, and blog about the trade shows that we attend, most notably the International Surface Event, Coverings, and The BOMA Expo. We have also been fortunate enough to present educational classes about stone restoration and maintenance. You may be wondering why we go out of our way to attend these trade shows. Well that's an easy answer and I'm giving you 5 reasons why: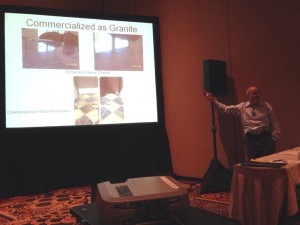 1. Learn The Basics
If you are new to the industry you need to learn the basics. If you are a veteran, it's a good idea to refresh yourself with basic classes. For example, every year at the International Surface Event, they have a class on Geology.  You probably don't have to (or need to) take this rudimentary class every year, but it's a great idea to be knowledgeable about the foundation of your business. Do you know the difference between a Sodalite and Granite? I sure didn't before I took the Geology course.
2. Test New Products and Techniques
You may have a tried-and-true method in your profession and you may have one amazing product. However, you just might find something that works even better! You don't know until you try. We like going to these trade shows to see what new developments have come about in technology. We are always open to testing new impregnator sealers and new polishers to see which ones work better. Improving your product is a wonderful way to keep ahead of the competition.
3. Network
Whether it's saying hello to your acquaintances or meeting new people, networking is an important element no matter what type of business you are in. For example, we belong to the Marble Institute of America (MIA) and we make it a point to stop by its booth and attend its trade show events. We are able to maintain our relationship with the MIA employees and meet new members of the Institute.  You may just meet someone who has a need for your products/services.
4. Discover New Trends
We want to stay current on the stones that are being used today and the various finishes that are popular in homes and buildings. By doing so, we can better serve our customers.
We recently attended a class at a trade show that solely covered grout because we've had a lot of calls lately from our customers complaining about dirty grout lines. We are in the stone business, and while we can clean and seal grout, we didn't know too much about the various types of grout. After this class, we can better advise our customers concerning cement, epoxy, and pre-mixed grouts.
5. Share Knowledge and Information
We've been lucky enough to present at the International Surface Event for a few years. We will also be presenting at Coverings on May 1 in Las Vegas. In Houston, we will also have booth 702 at the BOMA Expo. It's an honor to be recognized and chosen to impart our knowledge. We've had 32 years of experience in the stone restoration industry and we are happy to share the lessons that we have learned over the years. Another way we share information? We are constantly tweeting and Facebook posting at these trade shows. It's a fun way to communicate with others about what we're doing, who we're meeting, and the lessons we are learning at these shows.