"My grout was sealed. It shouldn't look this dirty"
In a typical installation, the grout lines are slightly lower than the tiles. Also, a cement grout can be pretty porous. Because grout lines are lower than the tile, dirt can get stuck and accumulate in the grout. The sealer is important because it helps prevent the embedded dirt from actually penetrating into and staining the grout; however, the sealer is not a force field and it cannot stop dirt from collecting in the lower areas of the floor.
If you need to give your stone and grout a professional scrub clean and seal, give International Stoneworks a call.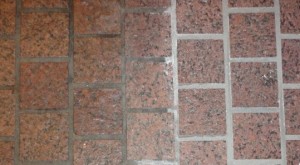 Myth: Sealing prevents scratches on the stone surface.
Impregnator sealers go inside the pores of the stone; sealers are not a protective barrier and as much as we want them to be, they are not a force field either. If you have had your marble floor restored and sealed with an impregnator sealer, it will not stop furniture from scratching the surface of the stone.
If you have sealed your stone surface with a topical sealer or coating, these sealers tend to show their own scratches and scuff marks. If you drag a chair over a slate floor that has a topical sealer on it, you will probably see a light scratch, but this scratch is on the topical sealer, not on the slate floor.
"My sealer has a 10 year warranty."
We believe you, but what exactly does the warranty cover? Also, what happens if the warrantied sealer does not hold up well? Make sure to read the fine print. Many times, these warranties do not cover acid, ammonia, or alcohol spills on marble, limestone, or travertine surfaces.
Even if your impregnator sealer has a warranty, we recommend re-sealing your stone surface annually to protect it from non-acid liquids such as oil, grease, coffee, tea, and water.