As posted on the Coverings Web site:
Rawi Tabbah will be speaking on Thursday May 1st, 2014 at Coverings in Las Vegas from 9:15-10:45am. Click here for more information on Rawi's session. Here is a sneak peek of his Coverings class.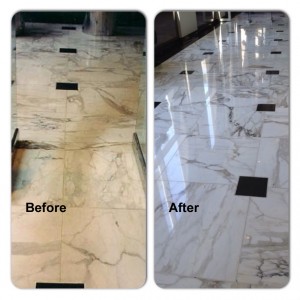 The process of stone restoration is not nearly as straightforward as it may seem. The simple process of polishing floors and countertops is just the beginning. At International Stoneworks, we pride ourselves in thinking outside the box in solving our clients' needs. It is the process of going that extra mile in solving these challenging stone restoration projects that we will explore in our session at Coverings.
In our session, "The Essentials of Stone Restoration," we will be sharing stone restoration and maintenance cases that we have experienced in the field for you to learn from and apply to your own businesses. We will also focus on some of the most complicated and challenging cases we have tackled and walk you through how they were solved.
Here is a preview of one of those cases:
Office building marble restoration and maintenance
Challenge:
A busy Houston office building had been using a wax system on their marble floors for many years. In order to lower maintenance costs, we suggested that they strip all of the floors and naturally polish the marble. While this would mean a high upfront cost, it would soon be made up by the decline in maintenance needs. On top of it all, it would solve the "yellowing" problem they were seeing as well.
Solution:
The customer was sold on the fact that the floor would only need to be stripped once and that they would not have to worry about constantly buffing out scuff marks and sealer scratches. We restored the floor by stripping off all the wax and used a diamond-grinding system to polish the marble. Ever since our initial restoration, we have been maintaining the traffic areas of this building for over 10 years with polishing compounds. We not only sold them the restoration process, but a maintenance program as well.
This is just a sneak preview of what we will be discussing in our session at Coverings. Come prepared to learn about the technical side of stone restoration as well as how to bid these projects. We also want you to share your ideas, challenges, and solutions.
You can register for Coverings here.