We've received a lot of calls lately about penetrating enhancing sealers and their application, so I thought: why not write my next blog about that? Our color enhancing sealer is called Seal & Go® Enhancer S and when this sealer is used the right way, it produces a richer, darker, and gorgeous result.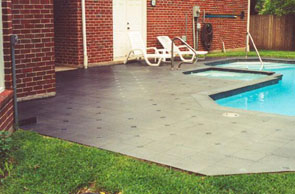 What is a penetrating sealer enhancer?
Our Seal & Go® Enhancer S is a solvent-based color enhancer and stain protector for interior/exterior natural stone. It works well on porous stones such as honed darker marbles, granites (flamed or honed), limestone (honed, tumbled or brushed), brick, slate, flagstone and Saltillo tiles. Seal & Go® Enhancer S is not a surface coating, so it will not add shine, but it forms a vapor permeable barrier to resist water and stains while enhancing the appearance.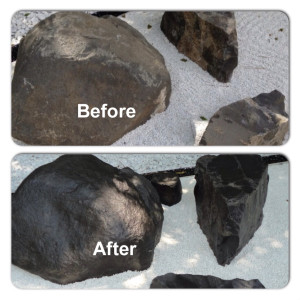 When should I use a penetrating sealer enhancer?
Let me say this first: if you are designing a building or home and you want a darker stone, choose a darker colored stone or tile that you like and that best fits your design plan. We suggest that you do not choose a lighter stone hoping it can be darkened later.
A color enhancing sealer is recommended mostly for older material whose color has faded due to wear, exposure to the elements or just time.
Make sure that this sealer is applied only on porous materials like natural stone. It can also be used on certain porous tiles such as Saltillo and brick paver.
Remember that enhancing sealers enhance an existing color. For example, you do not need to use this sealer on a white marble, because the color white cannot be significantly enhanced or darkened. However, if you have a lighter colored slate, flagstone, or Saltillo tile, an enhancing penetrating sealer will bring out the color(s) of the stone or tile and will give an overall darker and richer appearance.
Please keep in mind no sealer will stop acid, ammonia, or alcohol from etching (or chemical burning) marble, granite, or limestone.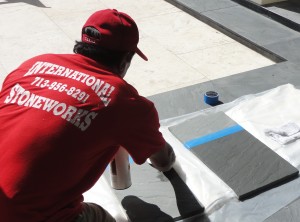 How is Seal & Go® Enhancer S applied?
Note:  To ensure product performance and satisfaction, Always pre-test this product in an inconspicuous area. User must determine suitability of product for its intended use.
Before applying Seal & Go® Enhancer S, make sure all surfaces to be treated are thoroughly clean and completely dried. Protect surrounding surfaces not to be treated. No penetrating sealer will work properly if the surface has been sealed previously with a TOPICAL sealer. If this is the case, strip and neutralize the surface first then let dry for at least 48 hours (longer if the stone is very porous).
Apply and saturate all surfaces with Seal & Go® Enhancer S allowing it to completely saturate the entire surface. Seal & Go® Enhancer S can be applied with a paint brush, paint roller, paint pad/applicator, clean towel or low pressure sprayer with no more than 25 psi.  Note: Do

NOT

Aerosolize.     

 
Allow Seal & Go® Enhancer S to absorb and penetrate the entire surface for 10 to 20 minutes. Wipe up any excess by wiping the surface with a clean towel.
Allow a minimum of two (2) hours drying time. However for best results wait 12 hours before applying the second application.
Apply a second coat of Seal & Go® Enhancer S to the entire surface allowing it to penetrate and absorb. Make sure all surfaces are evenly coated. Some areas may absorb more quickly than others. Wait 10 to 20 minutes and again wipe off any residue.