Quartzite
Definition: "A dense hard metamorphic natural quartz-based stone typically formed of sandstone" (Marble Institute of America)
1. Don't get Quartzite confused with Quartz countertops
Quartzite is a natural stone; it is a hard, non-foliated metamorphic rock.
Quartz is an engineered, man-made material. It typically contains a combination of natural ground quartz and polymer resins.
2. Don't assume Quartzite is acid resistant
Yes, it is true that Quartzite is typically acid resistant; however, not all stones sold under the name Quartzite are in fact Quartzite. These stones may be Calcites or Dolomites, which do react to acids.
If you are considering Quartzite, ask your supplier for a small sample to take home with you and you can do your own acid testing before choosing a slab.
3. Do take part in this new trend
Quartzite has been said to have the look of Marble and for the most part, it is a very durable natural stone. It is a great choice for high traffic areas in homes and buildings. Quartzite can be honed or polished. Want a finish that is a little different? Try leathered! Either way, Quartzite looks beautiful no matter which finish you choose.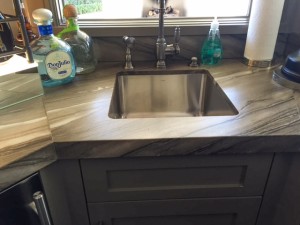 4. Do seal your Quartzite surfaces
Quartzite has moderate absorption quality and can stain. Protect your stone investment with a penetrating/impregnator sealer such as Seal & Go® S.
Marble
Definition: "A crystalline rock, capable of taking a polish" (Marble Institute of America)
1. Don't use acid, ammonia, or alcohol-based cleaning products.
Marble will "etch" when it comes in contact with these three substances. Etch marks are surface chemical burns that look like the finish or the shine has been removed from the surface of the stone. Use a neutral stone cleaner such as Lavenet.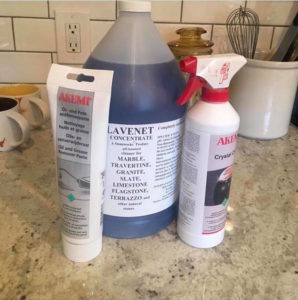 2. Don't freak out over acid etch marks, ring marks and stains – they are fixable!
Unlike some other engineered materials, marble can be resurfaced, repaired, and refinished. Etch marks, fine scratches and surface stains can be removed during the stone restoration process.
3. Do come up with a maintenance plan
Marble surfaces may require more maintenance than other types of surfaces. Make sure you have the right stone care and cleaning products and every couple of years (or as needed) have a professional like International Stoneworks come and refinish your marble to get it looking like new again.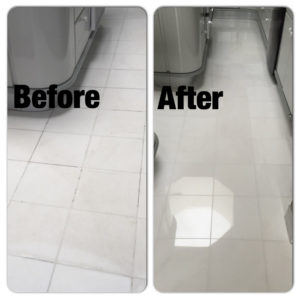 4. Do enjoy Marble's versatility!
Marble can be polished or honed. If you originally had your Marble installed with a polished finished, but in time changed your mind and prefer a more honed (matte) finish, no problem! A stone restoration company, like International Stoneworks can naturally polish Marble without using wax or can hone your Marble on-site.