As featured in Floor Covering News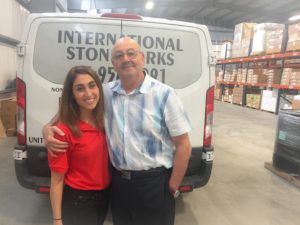 There is a fine line between respecting your family's business that they've built from the ground up and being an innovator. This line can often times feel like a tightrope, but once you make it to the other side, you will achieve a rewarding and meaningful career.
On your first day working in your family business, you walk in and there is a system in place and this is how it's been done for years. My advice is to embrace this system at first; by trying things their way, you earn trust. Trust is an essential component in any relationship, not just a family business.
By doing so, you will also learn more about the business and over time, you can slowly tweak the areas where you think there is room for improvement.
You also earn trust when you respect your family. It sounds simple, but it is so important to treat them the way you want to be treated. You want to be taken seriously and your family members do too.
When you are at the office, you must communicate in a professional manner. You may joke around at home or have a heated discussion, but the work place is where we have to put our differences aside and work together respectfully. When families trust and respect one another, your employees will follow suit because they see that you take your business seriously.
After these fundamental concepts are established, you can start introducing your innovative ideas. My advice is to start with baby steps. Upgrade your social media game; it costs nothing and can really increase the company's web presence. You can even reorganize your filing system by simply creating a shared drive or cloud-based system that everyone has access to at all times.
You may want to get involved in local and national groups as well such as The Natural Stone Institute.
Lastly, think outside the box. Successful family businesses thrive over generations because every person brings something new to the table. Each generation must adapt to fit the times. Learn everything you can from your fathers and mothers and build on that.
At the end of the day, we all have the same goal: to be a loving family and to work together successfully.
You can learn more about working in a family business and ask your own questions at TISE 2017, Managing a Successful Family Business Forum on Wednesday, January 18. I hope to see you there.