As the International Stoneworks, Inc. work van pulled up in front of my house, I got butterflies in my stomach. Why is that you might ask?
Firstly, I was about to get my Carrara marble kitchen island re-polished and I was very excited about that. I had a salsa accident a few weeks ago and wanted to remove those etch marks.
Secondly, we were about to shoot the International Stoneworks promo video! It's not that I'm shy; I just get uncomfortable watching myself on a screen. Nevertheless, we were ready to roll!
The star of our video is one of our supervisors, Rolins. He has worked for International Stoneworks for about 30 years and has known me since I was a baby. He is a master craftsman and is proud of his work. I was beyond excited that he was in my home, polishing my stone.
Rolins was a pro (no surprise there) and did a gorgeous job cleaning my marble bathroom floor and polishing my kitchen island.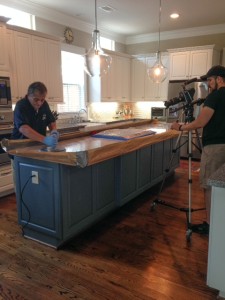 Next came the close-up interviews. My dad, Rawi, was cool as a cucumber. He has such as nice way about him when he speaks of his company and what we do. He did not stumble over his words as he described how natural stones need regular maintenance.
I, on the other hand, had to really think of my words (making sure I didn't use too many "ums" and "likes"). First take not so good, but after encouragement from my dad, my second take was easy breezy. You can see in the video some back and forth banter with my dad. He is such a pro and absolutely brightens the mood, giving an overall lightness to the video.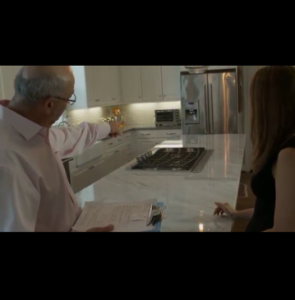 At the end of the day, this video is not just a promotion, but also a great experience that I got to share with my dad. It also doesn't hurt that my marble surfaces look amazing!
Our video can be viewed on YouTube as well as our Home Page.