Ok twist my arm; I'll go to Miami!
Let's face it; I don't need a lot of convincing to travel to Miami. I not only had the chance to lounge on the beach for a day, but I also (and more importantly) was able to attend and present at the Marble Institute of America (MIA) Women In Stone Connection Conference as well as TISE East.
I cannot tell you how much I enjoyed the Women In Stone Conference. The speakers were incredibly entertaining and informative. Lisbeth Calandrino was so motivating and personable. She could be your best friend and role model all at the same time. Toby Morrison gave us insight on what is going on in the housing market today, and Dave Mitchell helped us understand our own personalities and how to work better with others.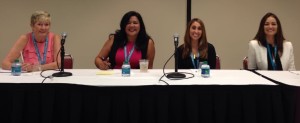 I was fortunate enough to play a part in this wonderful conference and served on a panel of key women in the stone industry. I believe women in the stone business need to stick together. We can help one another navigate through this male dominated field.
Now to turn our attention to TISE East (which encompasses Surfaces, StoneExpo/ Marmomacc Americas and Tile Expo). This show was not as vast as TISE West in Las Vegas, but I actually enjoyed the smaller size. It gave us the opportunity to really network with other companies in the stone business.
I attended the 140 Under 40 lunch, which was a wonderful occasion for young professionals to meet and exchange business ideas with industry veterans.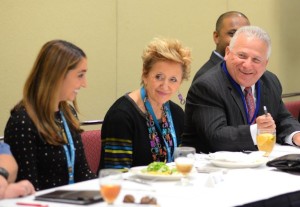 We also went to the Launch Party where I proudly wore my MIA shirt and spoke with industry friends that I only see twice a year.
Overall, we felt the trade show floor had good information on new chemicals, especially stone cleaners and sealers, as well as equipment.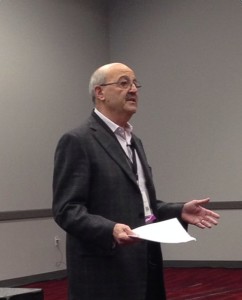 The education classes were tremendously helpful. I always try to find new ways to promote International Stoneworks. One small tidbit that I learned and will pass on to you is the importance of LinkedIn and Houzz. For me, Facebook and Twitter have always been my go-to for social media, but after TISE East, I have beefed up our LinkedIn account and created a Houzz account. International Stoneworks' LinkedIn account now posts daily updates and weekly articles and our Houzz account has pictures of our best residential stone restoration work.
TISE East was a great opportunity for us as a company to network and learn and we look forward to presenting at TISE West in Las Vegas.