You can buy just about anything online today. I even know a couple of people that bought their cars online! We buy large and small items, expensive and inexpensive items off the Internet, but why do we do this? Why don't we just go to the store and buy what we need?
There is the obvious reason that the inventory is larger online and in some cases, we don't have to pay sales tax.
The second reason is that I believe people don't want to be sold on items. People want to be presented with all the information, so they can form their own opinions and make their own decisions.
At International Stoneworks, we get it. We want to reduce the hassle of picking and choosing your stone care and maintenance products.  We want to advise you, but we do not want to sell you.
Want just plain advice on how to care for your marble kitchen countertop or travertine floor? We've got an app for that.  Not to mention, our website also provides a plethora of useful stone restoration and maintenance information.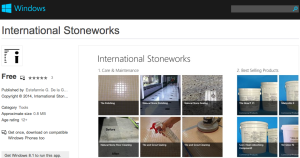 After you've done your research on our website and app, and you are ready to buy cleaning products and sealers that are safe to use on natural stone tops, showers, and floors, that's when the shopping cart comes in! It is easy to navigate. It can be accessed from our website or you can go directly to: http://www.intlstoneworks.com/shop/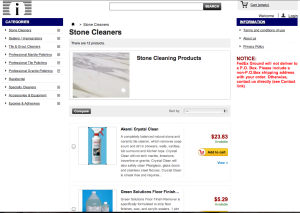 The shopping cart is also helpful for professionals who need to purchase stone polishing and honing products. We sell polishing compounds, non-acid compounds, crystallizers, as well as epoxies and machinery.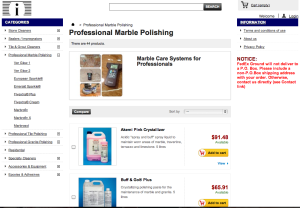 We know our clients are more web-based and we want to accommodate you. Whether you are looking to purchase products online or just want advice, we want to make it easy for you.  And on the off chance you need more information and want to call us (gasp!), we are also available to answer any of your stone care questions.
Online shopping cart categories include:
Professional Granite Polishing
Residential Stone Care Products