Myth 1: I only need grout cleaning; my stone tiles look fine.
Many people call us and ask only for grout cleaning and we completely understand why: dirt gets trapped and accumulates in the grout lines over time and this accumulation makes the grout lines darker.
However, in order for us to thoroughly clean your grout, we need to clean your stone and tile as well. The best way for us to scrub clean your stone, tile, and grout is by using a soft brush called the Scrub Grit II Brush and an effective cleaner. The soft brush allows us to really clean the floor, even in small crevices (like grout lines or travertine voids). We typically use Lavenet to clean stone floors and MDR (Mineral Deposit Remove) to clean tile floors.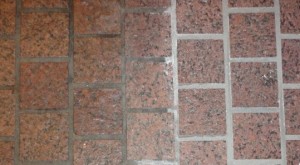 Myth 2: The only way to polish ceramic tile is by putting a coating on it.
Many janitorial companies have resorted to constantly waxing and stripping and re-waxing ceramic and porcelain tiles. In many cases, they know it is not the best method, but they have to use wax because the property manager says: I want this floor to look shiny.  Applying a coating or wax on tile floors may seem less expensive at first, but when you tally up all the maintenance it incurs (stripping and constant spray buffing), you are spending a lot of money trying to keep tile floors looking shiny.
We recommend the Tile Glow® System. This system is a natural, non-wax compound for the honing, polishing and restoration of most unglazed ceramic, porcelain and quarry tiles. This system gives a long lasting finish and natural shine to tiles. It does not yellow or scuff and it eliminates the need for the constant waxing and stripping of tiles.


Myth 3: I clean my stone with water only, just to be safe.
If you are just using water to clean your stone, then you are not actually cleaning your stone. You are simply moving the dirt around. We recommend using neutral stone cleaners like Lavenet, Lavenet Green, and Akemi Crystal Clean. These products allow you to clean your stone without harming your stone.
Myth 4: I only want to re-polish four tiles. I don't need to refinish the whole floor.
Our customers usually say this when someone has spilled a glass of orange juice (or some other acidic liquid) in one large spot on a marble, travertine, or limestone floor. However, when we restore a surface, we thoroughly clean then re-polish or re-hone the stone. If we only do four tiles in the middle of your floor, those four tiles may not match the rest of the floor. It is quite difficult to blend those four tiles to the rest of the floor, especially because the entire floor most likely has some embedded dirt, light scratches, and small etch marks as well.  We need to restore the whole area in order to give a consistent and uniform finish to the floor.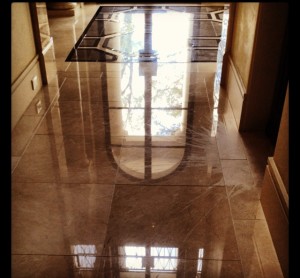 Myth 5: I can clean up and remove "water spots" with regular stone cleaner.
A lot of people call "etch marks," "water spots." These marks are in fact chemical burns when alcohol, ammonia, or acid comes into contact with the surface of the stone. These marks look like the finish or the shine has been removed from that area of the stone.
Simple cleaning won't remove etch marks. Etch marks need to be re-polished if you have a polished stone surface or re-honed if you have a flat/honed finish on your stone. For a small ring mark or a couple of spots, you can re-polish your stone by yourself using our Etch Removing Kit.
For large areas or floors, you will need professional stone restoration services, so give us a call: 713-956-8291 or e-mail us: sales@intlstoneworks.com.
Myth 6: I don't want to seal my stone because I don't want to add shine.
Some topical sealers do add shine to your stone; however, penetrating sealers (or impregnating sealers) like Seal & Go® S and Seal & Go® W go into the pores of the stone and repel non-acid liquids like water, coffee, tea, grease, oil, etc. Penetrating sealers do not change the natural appearance of the stone and will not add shine. They simply protect. We recommend sealing your stone annually.