You've heard the terms: stone restoration, stone care, and stone maintenance, but what exactly is the difference between these phrases? When does stone restoration end and maintenance begin?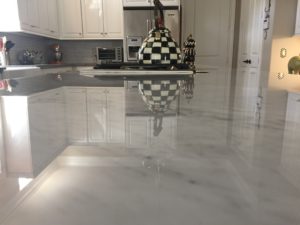 Keep in mind that this subject is a hot topic in the stone industry with varying opinions, but I'm going to try to define these terms the way that I see it.
First off, I believe it's different for residential customers versus commercial customers. The amount of traffic on a building lobby floor, just isn't the same as the foot traffic on your marble bathroom floor!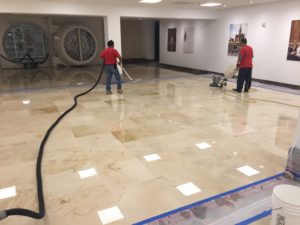 For my commercial buildings, here is how I define stone and tile restoration:
A one-time service to refinish and recondition the stone or tile surface as close as possible to its original finish at installation. This process can include: the removal of surface scratches, removal of etch marks, grout cleaning, sealing, polishing and/or honing.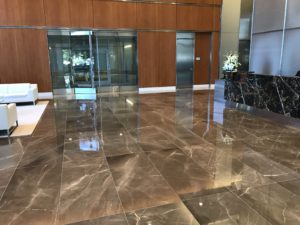 Commercial stone and tile maintenance:
A periodic (monthly, quarterly or semi-annually) service to maintain and care for the stone or tile surface by concentrating on the main foot traffic areas and wear patterns. The work can include: the removal of surface scratches, removal of etch marks, grout cleaning, sealing, polishing and/or honing. Please note processes may vary depending on the condition of the stone and tile surfaces.
Ok my homeowners, it's a little different for you: First off (in most cases) your marble, travertine, and limestone floors are in smaller spaces compared to a huge building lobby, like the kitchen or bathroom. You also don't have millions of feet walking on your floors everyday; therefore, a stone restorer will most likely restore the entire kitchen or bathroom floor and not just a wear pattern or spot. That way, the whole room will match and you won't have varying levels of shine.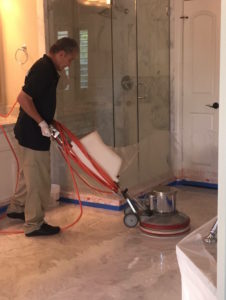 Residential stone maintenance, I believe, may be necessary for those marble kitchen, bar and bathroom tops because we're human and we spill acidic liquids such as orange juice, vinegar and my favorite: tomato sauce.  Our countertops tend to get more wear and abuse because we use them everyday! We cook, wash our faces, shave…you get the point. Depending on the condition of the entire countertop, you may be able to spot treat small etch marks with the Etch Removing Kit. If you have acid etch marks and fine scratches all over the top, a stone restoration company like International Stoneworks can come in and re-hone and re-polish the stone surface.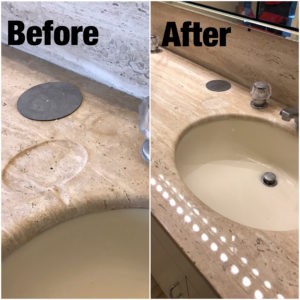 You probably thought I forgot to define the term "stone care." Well, I believe stone care is up to you, my dear customers! Stone care means that you use the right neutral stone cleaners to clean your stone such as Lavenet. (Don't use acid cleaners!) It also means re-sealing your stone surface; typically, I recommend re-sealing penetrating/impregnator sealers every one to two years. Stone care also means calling upon a stone restoration expert when it comes time to re-hone and re-polish your stone surface.