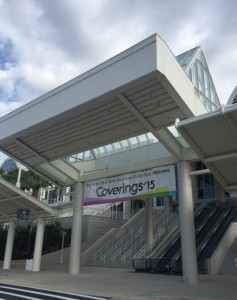 I have never been to a convention in Orlando before, but I was impressed by the gorgeous set up that Coverings put together on the show floor. I love walking the show; it's a chance for me to look at the up-and-coming trends in stone and tile.  Of course I also pay attention to new stone sealers, cleaners, and restoration machines. I enjoyed the classes offered this year at Coverings as well. Two of the sessions I attended were right on the show floor in the Social Media Lounge, which was wonderful because it gave me a chance to charge up and learn at the same time. Social Media for the Stone Industry was small panel on the show floor. It had a laid back atmosphere and I learned some fun tidbits.
I also absolutely loved the Women In Stone Meeting. It was a lovely combination of learning about the Marble Institute of America's Women In Stone group, workshops, and a panel discussion.  My favorite part was the workshops because we split up into small groups with various topics and within these groups, we as women offered one another advice and knowledge in order to stand out in the stone industry.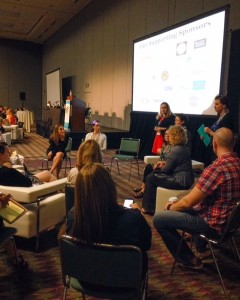 I was also lucky enough to participate the panel session, Managing a Successful Family Business Forum. The audience was fabulous. They were there not only to learn, but also to share their own experiences and questions. This panel gave me the opportunity to give my youthful perspective on working in my father's company, International Stoneworks. I also learned from our audience about the dynamics and practices of other family businesses.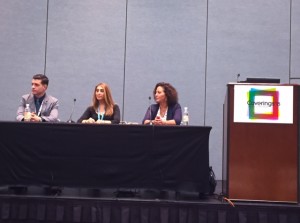 I attended other great classes such as the Stone Care and Maintenance Panel. Not to mention that Coverings offered warm and cozy covers at the door to anyone who was cold in the classroom. Covers at Coverings – how cute is that?!
Overall, I truly enjoyed attending Coverings this year and feel honored that I was able to present on a noteworthy panel.