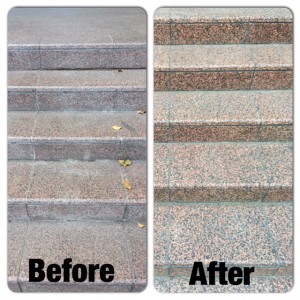 Ok, we all have seen granite before. Many of you automatically start thinking of sleek kitchen countertops. Today, however, we are discussing granite with a flamed (also called flame cut) finish.
So what exactly is flamed granite?
The stone surface is textured to a rough finish using fire. You can usually see flamed floors at the exterior entrances of buildings.  Flamed is a popular choice for commercial buildings because it is textured and can be more slip resistant.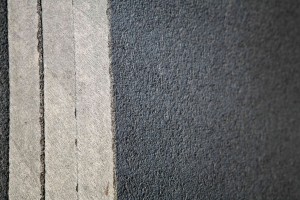 It is important to seal flamed granite as it can absorb liquids and we really recommend sealing if the flamed granite is installed outside and is exposed to the elements. If your need is water repellency, look no further than penetrating sealer, Seal & Go® S.
This sealer is not a coating; it goes into the pores of the stone and repels non-acid liquids like water and grease. For exterior surfaces, it is best to re-seal the stone annually.
Seal & Go® S also helps stone resist grease from skateboards and can help prevent oils from penetrating deeply into the stone. The sealer won't stop the grease from slicking on the surface, but it can help with the stain removal process.
Please keep in mind that the sealer also does not prevent surface dirt, but it helps you clean and maintain the stone.
Over time, dirt can become trapped in textured tiles and grout lines and it can be quite difficult to remove this embedded dirt. Simple damp mopping cleans the surface of the flamed granite tile, but mopping does not remove the trapped dirt; so what can we do remove this embedded dirt?
If you call International Stoneworks, Inc. to professionally clean your textured stone, we will scrub clean the floor with our Scrub Grit II Brush. This brush is used for the medium to mildly aggressive cleaning of textured granites, travertine, slate and flagstone as well as ceramic, porcelain, and quarry tile. It is also great for grout lines less than 1/2″ in width.
Rotary brushes are a great solution. To increase the efficiency of the brushes, wet vacuuming immediately following the scrubbing is recommended.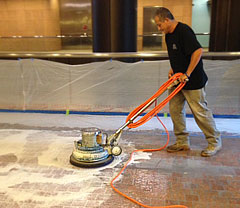 The cleaners that we usually recommend to be used with the scrub brush are Lavenet neutral stone cleaner or Green Solutions Floor Finish Remover.
Green Solutions Floor Finish Remover is specifically formulated to strip non-urethane floor finishes, wax, and acrylic sealers. It does not produce a strong odor. The Green Solutions Floor Finish Remover is fast acting and easy to use. It can also be used as a heavy duty cleaner.
If you are in the Houston area and are interested in having your flamed granite refinished, please contact International Stoneworks, Inc. and we would be happy to give you a quote.
If you are interested in purchasing our products, we sell these products at our location and we ship worldwide.